Confirmation : We just got confirmation from Pino Bonetti who is Senior Marketing Communications Manager @ Nokia  as comment  which says
Hi everyone, too many rumors are apparently circulating about Nokia Maps and Nokia Drive. Both apps are currently *only* available for the Nokia Lumia series. On a later stage, however, Nokia Maps is going to be released also for other Windows Phone devices. This doesn't apply to Nokia Drive"

Also He said that Nokia Maps will be free download.
This is also confirmed on Tweet :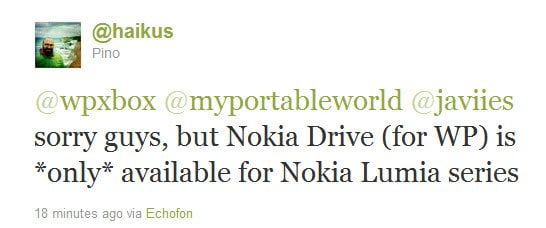 This came as surprise but seems like the awesome Nokia Drive and Map app will be paid for other Windows Phone customers and this makes it very exclusive for Lumia and other Windows Phone coming from Nokia. This was re-tweeted by the Nokia India Phone in the Bangalore Event that is taking place today.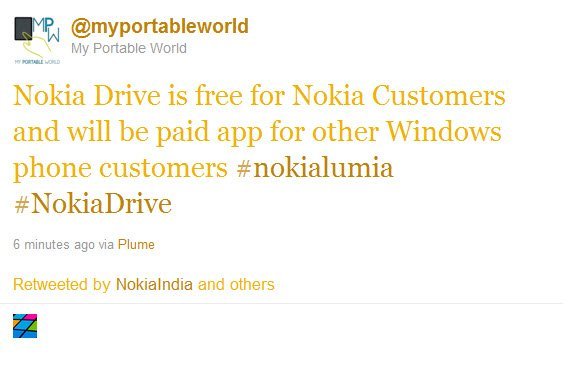 Update : Nokia Maps will also be Paid
Udpate 2: All Other Nokia Apps also to be paid
The App was recently leaked on XDA Forums and it has been tested that it works on all Windows Phone  unlocked using Chevron unlocker  without any issues including the turn by turn navigation so I guess it will just the device constrain that Nokia will be placing.
[minigallery id="1320″ style="box border box_white"]
In-fact the most of the apps which are said to be exclusive to Nokia Phones have been out in the wild which includes, Nokia Drive, Nokia Maps and Nokia Music, and been confirmed that they work flawlessly.
Looking at the tweets coming from the Banglore Meetup, It seems all Nokia apps will be exclusive for Nokia Phones not just Maps and Drives.
There is no official declaration on the pricing so I guess will have to wait till it gets launched in the Market Place.