If you been getting lot of negative feedback from Nokia Lumia 800 users, don't be surprised, there been  lot of issues right from battery drain ( which was said to be fixed but some users still face ) and there been an upgrade to come for fixing camera issues also. MobiletechWorld been testing a new firmware numbered as 1600.2487.8107.12070 / PR1.2 and they confirm that this update will answer most of the issues, specially the battery drain. So for most Nokia Lumia 800 users this is a great home as you can trust the source.
Official Change Log for Nokia Lumia 800 Update :
Enhanced battery standby and talk time performance
Battery capacity icon instead of question mark on top right of screen
Improved bass in audio performance
Soft-key illumination at all brightness levels
Fixes for device performance issues including self-reboots, freezes and call-ending
Official Change Log for Nokia Lumia 710 Update :
End Call bug
Minor Bug Fixes
Below is the list of things which is being said to be fixed :
Battery Drain Issue
Bass is in now for headsets
Camera issue with Auto White Balance
Focus Mode set to normal
The back light on the 3 buttons stays illuminated when on medium and high brightness.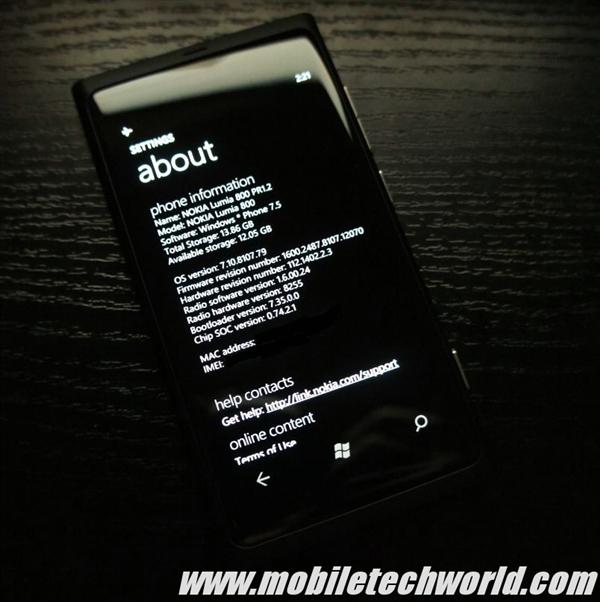 Mobiletechworld authors also say that there are more stuff which they wont talk about. I am guessing one of it might be the most wanted Internet Sharing feature which is long-awaited since last year.
Apart from this there is lot of discussion going on in the XDA Forum where one of the user got a new firmware RM-801 Vodafone New Zealand NZ Matt Black V2. One of the user also confirms that there are new camera mode Smart group shot, Action shot, Panorama, Self timer, the diagnostic app for Nokia also seems to have an update which was showing in correct info and it seems Nokia found a way out by hiding it.
There is also an Indian Version of ROM ( RM 801 ) talked around in the forum which brings 2 wallpapers like Taj Mahal and its completely unbranded which means no Vodafone Logo. You might try DataPackakeManager from Nokia Care Suite 5.0. to see if any update is around and you are lucky.