When you plan to shell out lot of money after a smart phone, its obvious that you would like to get a lot of stuff in return. So today we are picking on two high-end Windows Phone, HTC 8X and Lumia 920 to help you decide which phone you should be buying. In this post, we aren't just comparing miss or hit but also help you understand what each of the phone has to offer you.
I have used both the phones for over a period of 2 weeks.  I have done al video on it, if you want to skip the post.
Display :
Both the phones have stunning display. The text is crisp, high-resolution display, and smooth screen. So you won't find much of difference unless you use it.
Sunlight Ready : So now, even though Lumia 920 has slightly larger display (4.5 vs 4.3) than HTC 8X,  Lumia 920 makes the screen more readable even in direct sunlight. This is achieved by using the Polarization technique.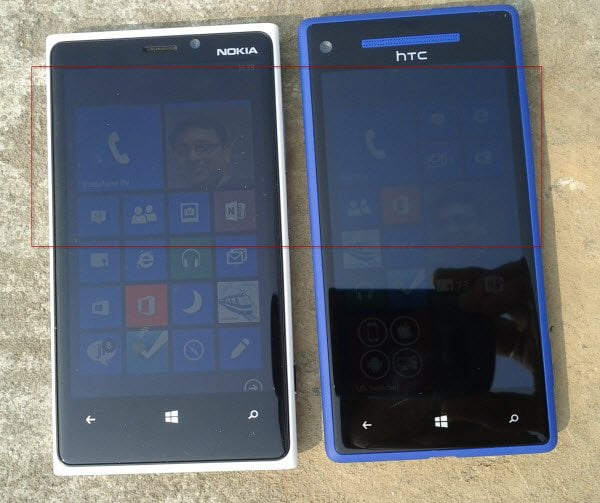 Higher Sensitivity:  Lumia 920 screen can be used even wearing gloves which is useful if you live in a country where you need to use your phone wearing them often.
Puremotion HD+: Lumia 920 has this technology in place which makes sure you don't see screen getting blurred when you scroll pretty fast or switch between apps quickly. This in technical term means that refresh rate of 920 is higher than 8X.
The Heaviness :
Is Lumia 920 very heavy ? Can you hold it in your hand nicely ? Does it hurt if you talk with it for very long ?
There are many questions like these, and I have heard that many want to skip 920 because of these reasons.  So here are my thoughts :
If you are using a small phone like Lumia 610 and switch to 920, its gonna be a big change, but if you ar e already using Note 2 it will be slightly heavier.
When compared to HTC 8X it turns out to be just 50 gm heavier
HTC 8X looks thinner because it has thin edges for better grip,  but the thickness is almost the same.
Also, Nirmal did a comparison with Lumia 800 to find out the heaviness factor. Read what he has to say.
HTC 8X Advantages :
I have used Lumia 920 first, and then switched to HTC 8X.  I felt the phone to be much lighter even though the thickness is same and there is only a small difference in weight.
After using it for few more days, I finally understood that it's because of the design HTC 8X feels even more lighter. The edges of the phone are pretty thin which increases as it moves towards the centre. This gives stronger grip when holding it.
Since Lumia 920 is a solid rectangle with distributed and the same amount of thickness, you feel holding it even tighter which in turn increases the weight feel.
How easy are they to use :
I found using Lumia 920 a lot better than HTC 8X and here are my reasons :
Thinner Buttons: Trying to make it thinner on edges, HTC has messed up with the buttons big time. Power, Volume and Camera are way too thin to press, specially when you are trying to do it in dark or using it without looking at it.

Later part is what we do all the time. You flip our phone out and try to hit the power button to unlock and 50% of the time you won't be able to do it one shot unless you are very conscious about this issue.
Position of Power Buttons : When the phone becomes wider and longer, it's not easy to move around your fingers to push a button. The power button in HTC 8X is on the top which makes it even more difficult to press. Lumia 920 has all the buttons on one side which is a smart thing. Using your finger you can quickly lock and unlock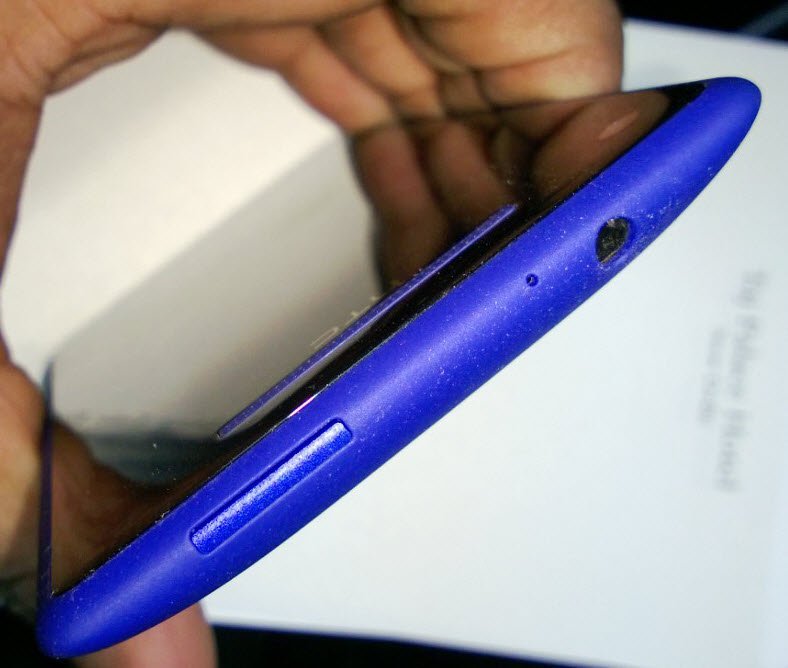 Finger prints and Dirt : 
Both the phones attract dust, but HTC 8X takes a lead here by attracting even more. I even see more finger prints on 8X on the screen as the body is matt finished.
I have shiny Lumia 920, and the back part does get finger prints and marks but they get off pretty easily which is not the case with HTC 8X. In case you happen to get something like oil, cream etc. it stays and does not get off that easy.
Battery Life :
Both the phones have almost same battery life even though Lumia 920 has more battery power packed in but then it also has better screen display and size which compensates there.
Like you can see in the image below, both the phones lasted for 23 Hours straight on average use. Also keep in mind that to get a better battery life time both the phones need a couple of charges. Later, it increased and is pretty stable now for all day usage.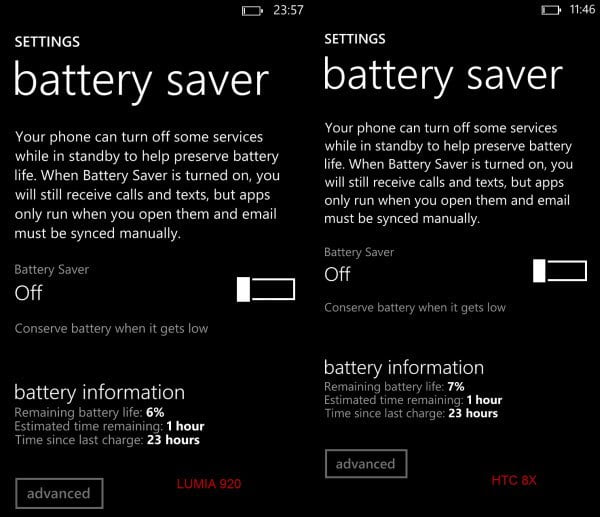 Storage Space :
Lumia 920 comes with 32 GB of storage which is 100% more compared to HTC 8X which is only 16Gb. Though 16Gb is a good amount of space but if you want more Lumia 920 is what you need. Also both the phones do not support SD card.
Voice Call Quality :
Lumia 920 has much better noise cancellation compared to HTC 8X. When we did the OIS test for Lumia 920, HTC 8X wasn't able to cut off the noise to a great extent which 920 did brilliantly well.
Camera (Still Images) Quality :
Lumia 920 comes with PureView camera which has the Optical Image Stabilization (OIS) technology.  Apart from these specs for the both the phones are relatively same. We have covered the camera comparison in a separate post so as to give a better idea in case camera is a top priority for you.
Like always, @cybercool10(Kuntal Gupta) helped us in getting this comparison done. Below is his verdict :
If you rarely take a photo or click because for the sake of the moment then fine get the HTC, but Lumia is ace of all the aspects considering camera and controls, loved what it presented :)
Check out the detailed post on HTC 8X vs Lumia 920 Image Quality comparison where he has explained aspects like Auto Focus, Low Light, Outdoor Test, Aspect Ratio etc.

Here is an interesting fact about HTC 8X. When the battery goes below 24%, the flash will stop working. This seems to have been enforced on hardware level and does not get turned on even when you have battery saver turned on.
Camera (Video) Quality :
Lumia 920 has OIS or Optical Image Stabilization technology in the phone which makes sure that when it comes to recording video on the move,  it's not very shaky as compared to other phones. This not only makes it pretty to take video on 920, but at many places you will feel like using this phone as your primary camera. Below is a video sample on how it is compared to HTC 8X.
Music / Audio Quality :
HTC 8X comes with beats audio which is superior when compared to Lumia 920 Dolby sound. The music sound is crispy, and if you are music fanatic, HTC 8X is a better choice for you.
However, Lumia 920 comes with better feature, the Equalizer. You can not only choose between different pre-sets but also create a custom for yourself. There is also an option for Audio Levelling which makes sure the audio is at the same level as your phone.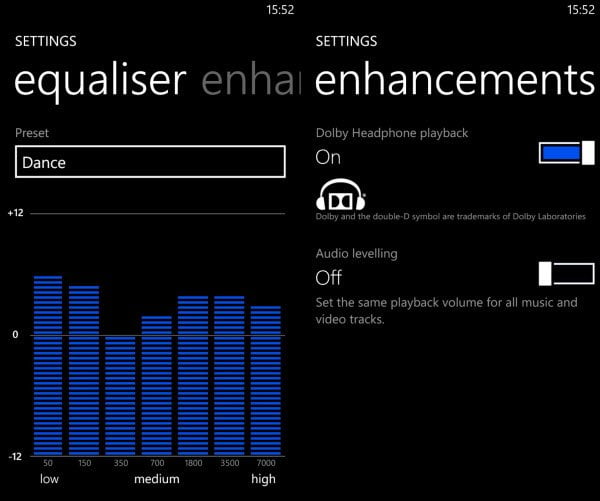 Game Performance :
Both the phones did well when it came to playing games. There was a minor lag in HTC 8X, but that was happening once in 3 times. Lumia 920 seems to be getting heated a bit when it was used for gaming for an hour. Below is a video for both the phones playing NFS and Asphalt 5.
Exclusive Apps :
Nokia had always made a great effort when it comes to making apps which is one of the primary reason why many would like to Switch to Lumia even if they had a different phone when using Windows Phone 7.5. While HTC 8X just has only handful of exclusive app, Make More Space & HTC weather  for their users. Below is a list of apps from Nokia :
Nokia Drive, Maps, City Lens, Music, Transport, Express
Photo Apps : Cinematograph, Panorama, Smart Shoot
We have seen how Nokia had made possible to bring in features like Bluetooth File Transfer, Play to etc to Windows 7.8 users making sure that even if MS upgrade their OS to a level where  your phone is being skipped, you still get more features than anybody else.
Pricing :
Lumia 920 is priced at 37K on Flipkart while HTC 8X is 35.7K which is pretty marginal difference. Nokia did a good job to put up the pricing at 37K instead of 40K which means they did plan well to compete with the device. Expect that 2 weeks down the lane, the pricing of Lumia 920 to drop down to 33K.
Summary :
Both the phones are a great product, but I tend to incline towards recommending Lumia 920 over HTC 8X for several reason and not just because I own it.
Better Technology : Less Shaky Videos & Better Low Light Pictures
Better Noise Cancellation.
Exclusive Apps.
More Storage space for Music and Videos.
So now its up to you to decide which phone to pickup. If you have any questions regarding both the phones, do let me know, and I will answer to them.