According to IDC report published yesterday, 2nd Dec 13, it is being claimed that Nokia has reached 5% market share in Smartphone category thanks to its Lumia sales in third quarter while it still holds the second position in overall market share which includes the feature phones and Asha ranges which were a great success.
Samsung, Micromax and Karbonn still lead the market with their range of Android phones along with Lava which made it to top five recently. As a matter of fact, Nokia and Lava are at close battle with a mere difference of 0.3%.
Coming back to Nokia 5% market share is a positive sign but still al long way to go. Nokia major market share, 9%, is still because of he feature phones like Nokia 208, 301 and Asha phones like 501.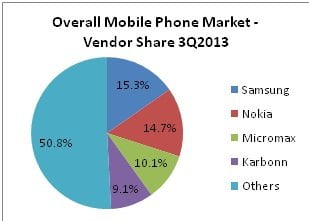 Interesting  but not surprising that even though the smartphone sales has picked up the majority of share is by feature phone but its dropping fast. In one year it has dropped from 93% to 81% and if the trend continues, we will almost 25% market share by smartphones next year.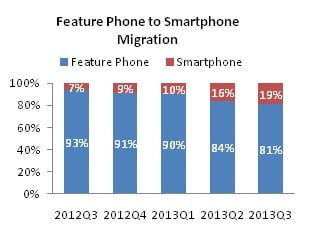 That said, Nokia has a long way to go and it will totally depend on Microsoft on how it keeps itself up in the growing market where there is a lot of opportunity. They just need to market it right. More at IDC