Nokia had launched MixRadio, an update to Nokia Music for Windows Phone 8 with the new Play Me feature in 31 countries around the World. MixRadio provides a free music streaming service that learns from your listening habits to give you a personalized radio station at the touch of a button. Today, Nokia has updated their Windows 8.1 RT and Windows 8 apps to the MixRadio and is now available in the Windows Store.
MixRadio for Windows 8.1 comes with 'Play Me' button when you start the app that makes it quicker and simpler than ever before to get your own personal radio station- a playlist of music that's been tailored specifically for your tastes.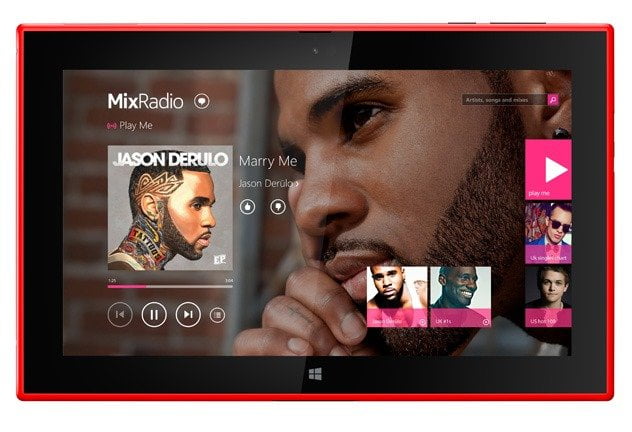 The app also uses information like the favourite artists you've added to your Windows 8 and other data points to build its profile of best songs.
Complete list of features:
Play Me: Your own personal radio station. Created just for you.
Mixes: Hundreds of hand-crafted playlists across every genre you're interested in. From Pop to Country, Blues, Reggae, Indietronica, and loads more – we've got them all
Offline Mixes: Download your favorite mixes to listen when you're not connected to the internet
New Releases From Your Favorite Artists: Stay one step ahead. When any of your favorite artists release something new, go on tour or get included in a new mix, we'll let you know.
MP3 Playback: Listen and queue your own music. Put it in your Music library and we'll pick it up. Get Mix recommendations and artist information.
Artist Mix: Tell us up to three of your favorite artists and we'll make you a mix featuring those and other similar artists
Artist Page: Found someone new? Learn all about them with our artist pages. Biogs, featured mixes, tweets, gigs, similar artists and artist image galleries.
Supports Nokia MixRadio+, an enhanced music service which includes higher quality audio, unlimited track skips, unlimited offline mixes, full time-synced lyrics (where available). A free trial of Noki
Play To: send what you're listening to directly to many smart TVs or DLNA-enabled devices
You can either update the app forcefully if you already have Nokia Music installed or else the app will automatically update if the settings are enabled for it.