Pandora for Windows Phone was announced back in October 2012 when Microsoft announced Windows Phone 8, but there was no signs of the app till now. But today, Pandora has been officially available for Windows Phone 8. Pandora is an online music streaming service with subscription plans and available in US, Australia and New Zealand. You can also buy songs and albums from the service. The best feature of Pandora for Windows Phone is that you get free service (subscription) for entire 2013, which means there are no ads and no music streaming limits.
You can create 100s of personalized stations and add favorite songs to it. Pandora for Windows Phone allows you to pin your favorite stations to the Start screen, or see what's playing by glancing at your Pandora Live Tile.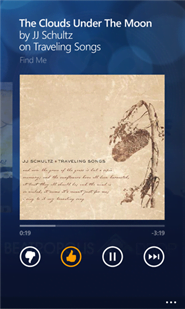 Exclusive to Pandora on Windows Phone:
Enjoy ad-free streaming music for free through 2013, with no monthly streaming limit
Pin your favorite stations to the Start screen for one-touch access
See what song is currently playing on your Live Tile
Launch Pandora in Kid's Corner and explicit content is instantly filtered
Access a recent stations page and easily see your current favorites
Other supported features:
Log in using your existing account or create a new one
Create up to 100 stations
Manage stations: create, delete, and add variety to your stations
Customize your shuffle settings
Fine tune your stations by thumbing tracks up or down
Go to the Store to buy songs and albums
Filter explicit content
Turn on higher-quality playback
The app is available only for Windows Phone 8 users.
Download Pandora