Remember the time when we all wished for a pattern lock feature on our PC, running Windows? That wish is now a full-fledged reality, thanks to the Microsoft product development team, who rolled out this feature for Windows 10. A picture lock or a pattern lock is perhaps more convenient than remembering a bunch of alphanumeric combinations, which we often tend to forget or jumble up. In this post, I will show how you can setup a Picture password in Windows 10.
What is Picture Password in Windows 10?
A picture password tends to follow almost a similar path as a pattern, with one minor difference. There is a picture in the background over which no visible grids of points are placed. Instead, a precise area on the picture should be remembered for drawing up a pattern, e.g., a cat's year or a dog's nose. This feature of the Windows 10 perhaps emboldened the already tight security, since anyone who has the potential to break into a PC, would not know where to start or which pattern to make over the picture.
How to setup Picture Password in Windows 10
The setup of the picture password is reasonably similar in all the devices running Windows 10. Use the Start button to open up the visit Settings. The next step is to choose the Accounts menu. You would be greeted with a Sign-In option on the left of the display. Click on the Sign In Options. The Sign-In options allow a user to:
Reset or modify the already existing alphanumeric password on your device
Using a PIN to log in
Using a picture password for logging in on your device
1] Enable Picture Password
Click on the Picture Password option, and you will find an Add button for activation. After you click on the Add button, you would be prompted to provide the existing password. Once you have given the current password, select OK. If you are not using any password for login, it will prompt you to set up a password first.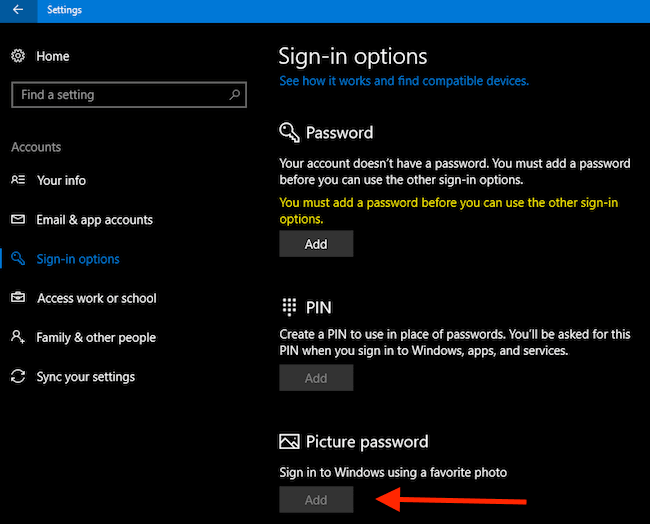 2] Select a Picture to use as a password
Next, Windows 10 would guide you to complete the procedure for setting up your picture password. It includes choosing a photo from your device's storage. Make sure the picture you want to use is already on the hard drive of your device and has crystal clear clarity for your comfort. The picture can be anything from a personal one to one of a pet or any other random image.
For this step, you have to select the Choose Picture option from the left-hand panel and select a picture that is on your hard drive.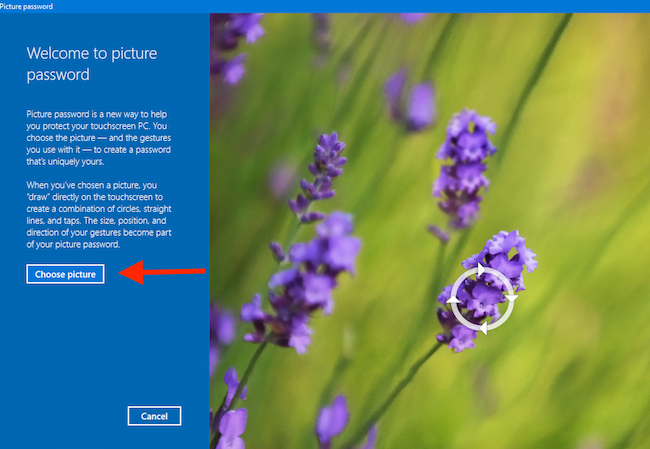 Select Location on Picture as Password
Next, you would be prompted by Windows 10 to draw any three gestures in series over the image. The final step of this would require you to confirm the three gestures you made previously over the picture.
Now that the setup is complete, you can use these gestures to sign in on your device. That's how you can set a picture password on your Windows 10 device pretty quickly.
The terrifying prospect of forgetting the picture password you set does come up with a backup plan from the Microsoft product development team. The Windows login screen lets you choose the Sign-in options, which can be used to return to your old alphanumeric password setup. Another method of activating the alphanumeric password option is merely removing the picture you used to set up the feature from the Sign-in options of the Account menu. Your device will switch over to the alphanumeric password by default.
With all these details, we come to an end. We hope you liked our article and how to set up a picture password in Windows 10 devices are cleared. If you have any questions, do let us know in the comments section below, and we will try to resolve it.