Most of the time you need to perform a certain task when you reach certain place so what we do is set up a reminder based on estimation when we reach some place or the best you ask your partner to call you up and remind about a task you need to complete.
iOS 5 came with a Reminder App which allows to set up location-based reminders, based on similar principle if you are looking for a location-based reminder app for Windows Phone,  check out Pushpin Reminders which is first app on WP marketplace to do that.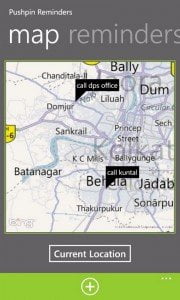 Features :
Create unlimited number of reminder  with global turn on and turn off switch
You have option to fill in Title, Notes.
Set an alert radius i.e. If you are around lets say half a mile, it can trigger the alarm.
Local can be set by two ways either you can search or pick a location from a contacts address field ( which is really cool )
A map view which shows all the reminders you have set till now.
You can reuse the reminder any number of time, so instead of deleting the reminder you can un-check the active status.
Live tile support i.e. Pin to Start menu.
Overall performance of the app was very smooth. The reminder came in 5 minutes of reaching the place but the developer explains that it might take around 30 minutes because of restriction in Windows Phone which allows to check for location about every 30 minutes and the phone itself caches location every 15 minutes.  So this means if it's very urgent do keep a backup. Also make sure your phone is not set to vibrate only, be specific for address.
Screenshots :
[minigallery id="1639″ style="box border box_white"]
Video Demo : ( Watch on YouTube )
How the app can improve :
Reminder Details should tell me from which contact the address was chosen if any.
Call to Action : If I can ping contacts  along with the reminder which allows me to call that person instantly will be helpful.
Tap to Edit Reminders  from the map view.
Option to drag and change the address of any reminder right on the map.
Option to export the task so if i had to reset the app for some reason, I can import it back.
Download from Market Place