Asphalt is back in the race with its very new racing game – Asphalt Xtreme. Asphalt Xtreme will remind you of Asphalt 8 – one of the most popular racing games and the best one in the Windows Store, but in a good way. From gameplay to graphics, to tracks, to cars, everything has changed and changed for good.
Asphalt series is the most popular game series among smartphone users. Started back in 2004, the series is now enjoying its 12th year run with its very new off-road racing series – Asphalt Xtreme. Like its other series, Asphalt Xtreme too is free to play but involves in-app purchases.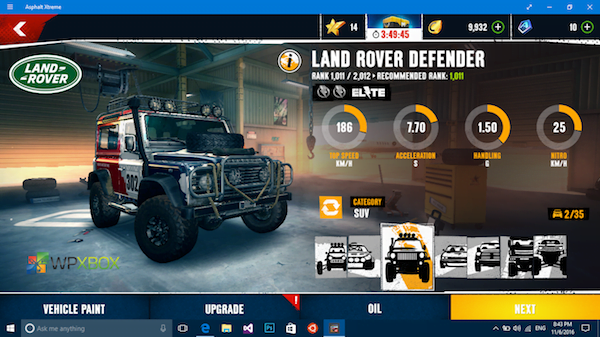 Go Extreme with Asphalt Xtreme for Windows 10 PC
35 monster machines to play.
Real-time multiplayer support.
You can customize your ride.
A complete off-road experience.
Gameplay:
The game is very straight forward. It doesn't waste your time showing you long clips, boring tutorials. It directly takes you in the game with little tutorials as the game progresses. If you have played Asphalt 8, you will find the gameplay of Asphalt Xtreme quite similar. The way the game progresses is similar to the last one, but don't worry, it still smells new.
If you're playing it on your PC or a device that has a keyboard, you can control your car with the hardware keys. However, if you're playing on a touch screen device, you control your car physically, moving your phone or tablet left or right. Controls are easy on PCs compared to the one on Mobiles. However, this could be my personal opinion, as I'm not that good with motion-sensing games. I still prefer hardware keys.
I would also like to point out that it took me at least 5 attempts to get the game started. It kept crashing for some reason. Restarting my laptop fixed the issue. Starting, you will have to be connected to the internet to play the game. You start the game with Predator X-18 Intimidator and can buy different ones as the game progresses.
The graphics of the game will win your heart. From slow-motion car crashes to in-air stunts, all these are treated for one's eyes. Gameloft has also added some obstacles like falling rocks, slippery roads, etc., to keep your racing skills at test to make the game interesting. The main thing to do is – Avoid obstacles, Avoid crashes, Collect Nitros, and finish first.
What I really enjoyed in Asphalt 8 was its soundtracks, and I was expecting some good ones in this too. And I'm glad that Gameloft didn't disappoint with the selection of soundtracks. The soundtracks will surely keep you pumped throughout the race. The game also allows you to tweak settings such as graphics quality, screen density, etc.
The main page shows your car you recently raced with, Garage, a free zone, Settings, and various modes like – Multiplayer, Career, Limited- Time events. Searching your cars in the garage is still very painful. For some reason, the garage seems very confusing, which is why I have stopped opening it.
Entering the career mode, you will be asked to select your season. It has 9 seasons, and each season has 5 different locations where you need to race to unlock the next season. You will have to collect nitro and perform some stunts like Barrel rolls to earn more stars. Finish the race, collect the points and money, repeat, that's pretty much it.
Overall:
The performance of the game is superb. Soundtracks, cars, graphics, performance – everything is amazing. I have two complaints about the game- First, it crashes a lot on PCs. The game never started for me on the first attempt. However, it never crashed on my Lumia 640. Second, the fact that you need to be connected to play the game might be a setback.
Nonetheless, if you have loved Asphalt 8, then you will love this game too. If you didn't like Asphalt 8, give Asphalt Xtreme a try, and I'm sure it will not disappoint you. I would definitely recommend downloading the game. Get it from the Store below.