If you are a Micromax user and a big fan of Windows Phone, check out our detailed review of the device and how it performs for every perspective. Let us know if you have any questions in the comments section.
Video Review
Display & Screen:
It's a 5 inch 720P HD IPS display which makes it outstanding similar to what Xolo WIN Q900S delivers. The display is sharp; you get to read more text anywhere because the high-resolution action center has an extra item in quick settings.
DayLight or the Sunlight Readability:  It's a treat to read text, message, or find anything on the phone in daylight. Even though the screen does reflect a lot, if you change the brightness profile to medium or high, it will get the job done.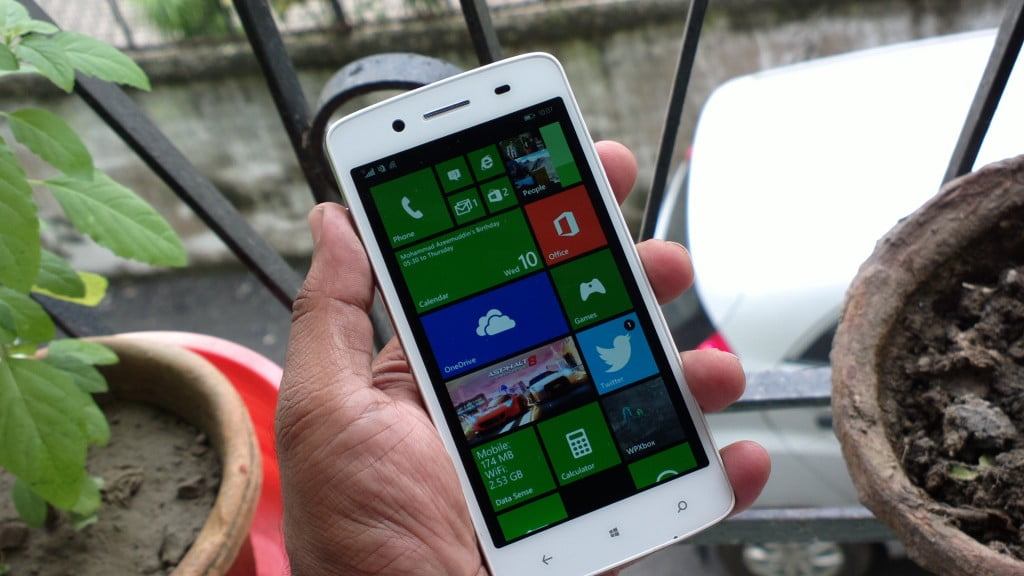 Interestingly, when switching to automatic settings, the display doesn't help much, even though we have an ambient sensor on board.
Swipe Experience: However, Micromax messed up things when it comes to screen quality when it comes to using it. It would help if you got the smooth feeling while swiping is missing, and during gameplay, I had to press a lot harder, mostly twice or long-press, for almost anything. What one will experience is annoying resistance and will miss a smooth swipe experience.
Use case:  My Son plays Asphalt 8 a lot. In fact, he has played it on most of the devices I have reviewed to date. He came back complaining that he cannot tap on next to get to the next screen and start the race. Bingo! The problem is that you need to press harder than usual, and kids aren't used to it.
Build & Design
How does it feel in hand: It feels like a big device if you are used to 4 or 4.5-inch devices as the phone is wide. I can fit the Xolo's WIN Q900S into its display. So how does it feel in hand? It feels big, and it's not for people with small hands because you won't be able to operate it with one hand. However, it's really pleasing for gaming, watching movies, and consuming a lot of text.
Rear: While it's not the lightest phone, it weighs over. It does have a premium-looking leather back panel which will impress everybody. The leatherback has stitching as well on the edges, which adds up to the looks. Cut for the camera, flash and speakers are precise with Micromax Metal Logo.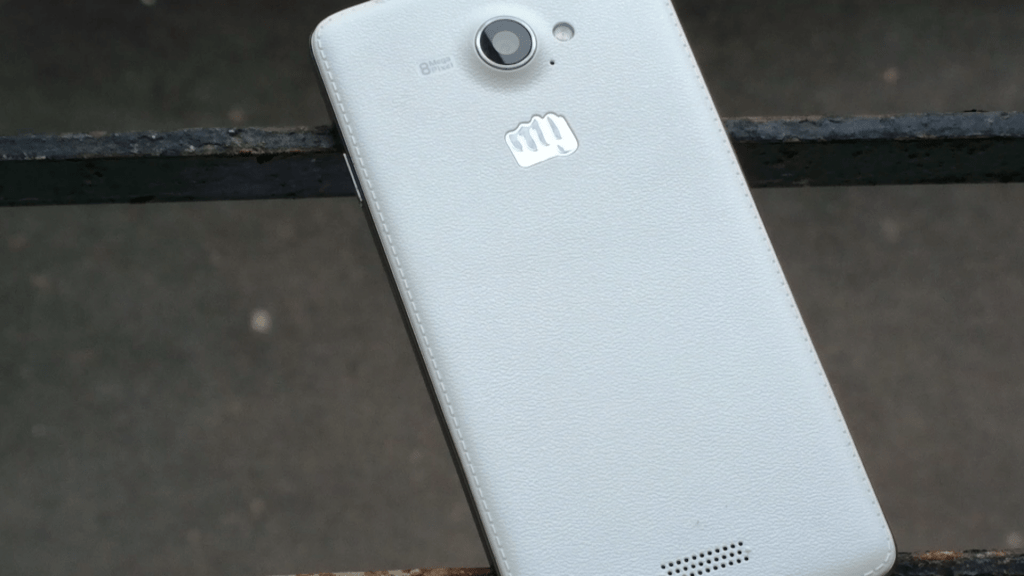 It is interesting to note the camera module protrudes out by few millimeters, which could have exposed it to accidental hits. Still, Micromax designers added a metal ring around it to ensure it stays safe.
Side: The side of the phone is surrounded by a metal ring and looks sandwiched between two thin white layers of the phone. There are two buttons that are easy to press. While volume knockers are on the left, the power button is on the right. There is no camera button.
Front: There is no effort made to make the front look good, and the capacitive buttons make it look even worse. They light up half and look very cheap and not to miss. They are comparatively small and look like rushed jobs.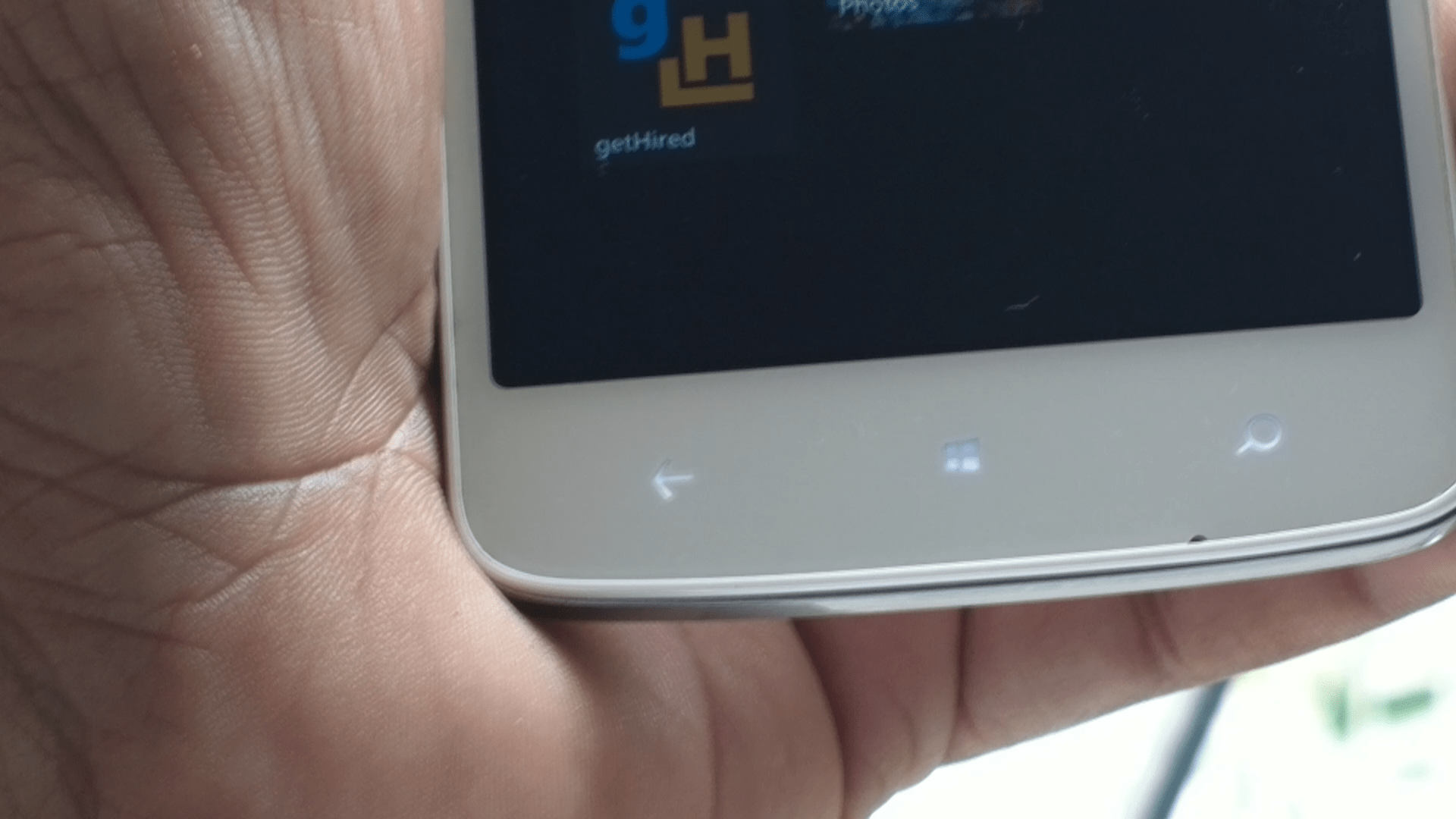 Camera (Picture and Video Quality)
The 8-megapixel rear camera with flash turns out to be a treat for daylight pictures. Not only lot of details are captured, but you also get the right colors with the click. Like XOLO, the only option you have here is the Microsoft Camera app, which allows you to access few settings to fiddle with. Suggest you read out detailed post on the camera here.
Daylight
Low Light
Macros
Front Camera: The front camera is 2 MP which is good enough for video calls over Skype or any other app which supports it. Most phones at this price do not have a front camera, which adds to the advantage here.
Video Recording:  The camera doesn't support Zoom (processor restriction), and video recording is only 480P. The camera doesn't capture much light during recording, and hence you will need to turn on the flash.
Application Performance
Apps used: Whatsapp, Facebook, Twitter, Messenger, and other apps.
If I have to talk about Windows Phone 8.1, It works fine even on 512 MB RAM with 8 apps running back to back. So having 1 GB RAM is even better. I see no problem using any app. They load up fast, and apps like WhatsApp and Messenger don't miss a notification.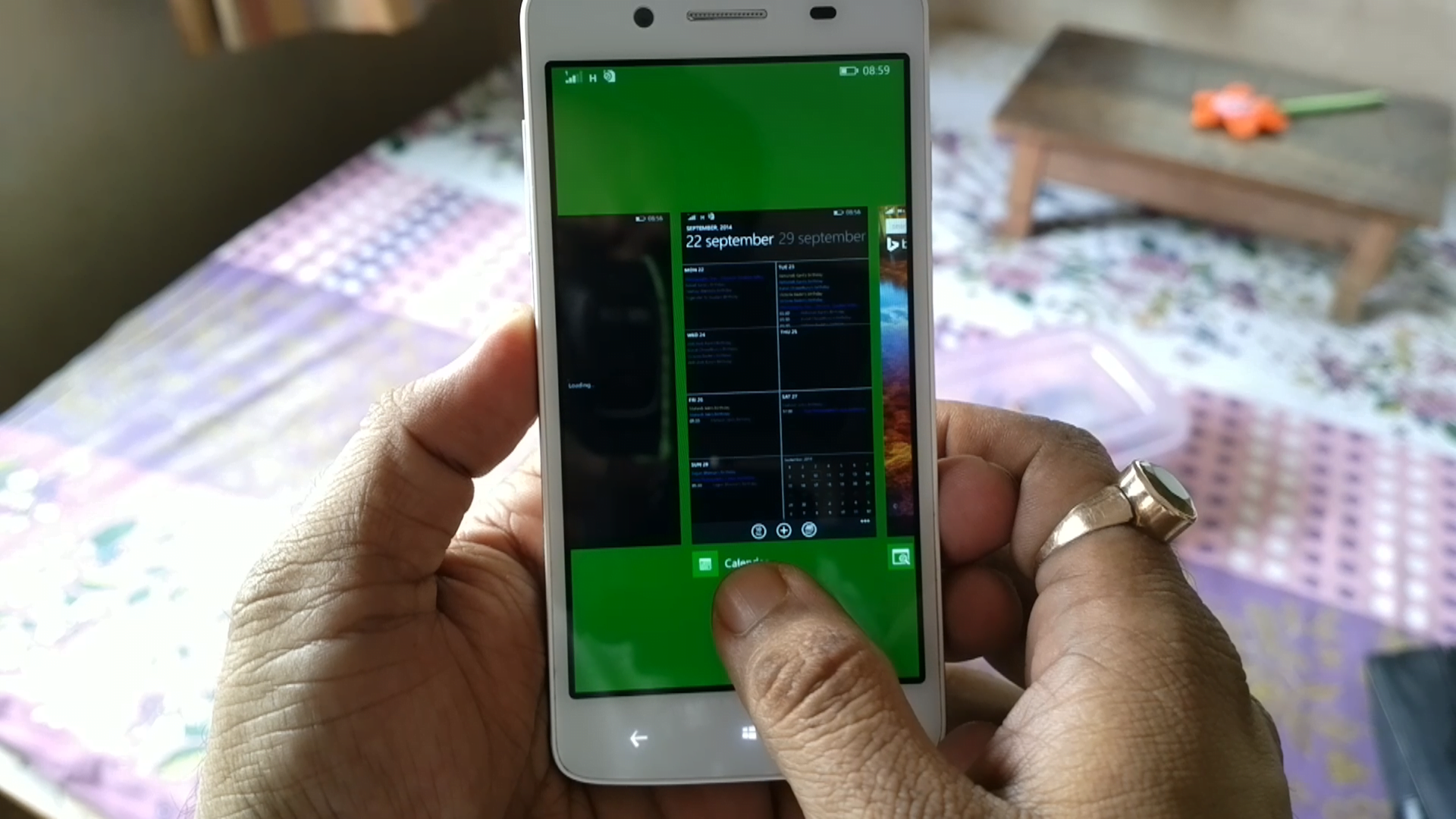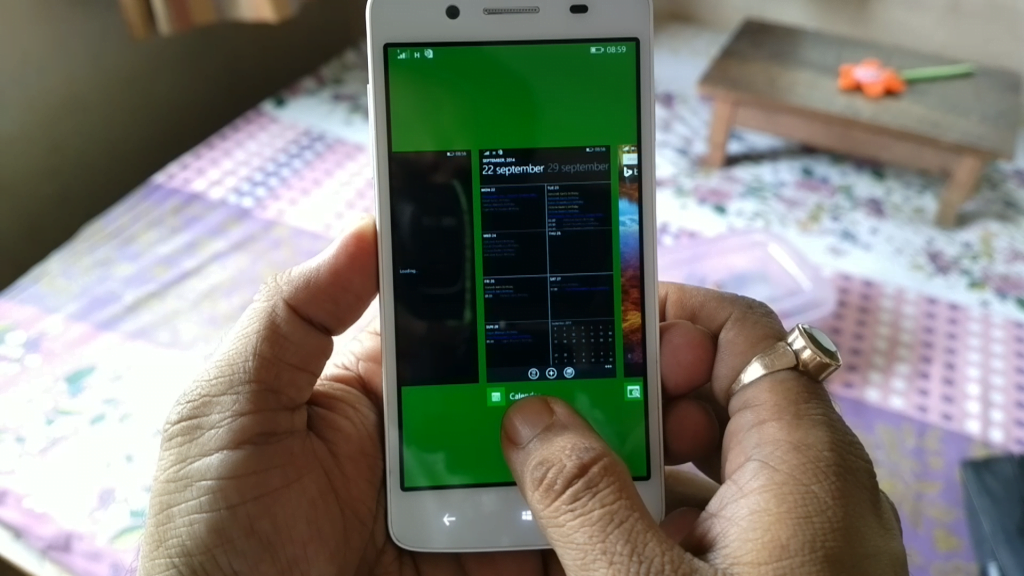 A couple of you asked about Multitasking. Windows Phone 8.1 allows you to run 8 apps in the background, and with 1 GB of RAM and Snapdragon 400 1.2 GHz processor combined with enough space on your internal storage or class 10 SD card, it works fast and without any lags. You can switch to apps quickly between emails, games, WhatsApp, Facebook, or any app in the background.
Game Performance with Asphalt 8: Airborne
The phone HD display makes sure that you get an excellent experience without any color change when you tilt your phone during gameplay.
There is no lag during gameplay, the game resumes back without hiccups during car wrecks, and loading time is fine.
The only drawback—the phone heats up—during the gameplay. The metallic logo on the rear case heats up big time, but it does help get the heat off. The metal ring around the camera also heats up.
Battery: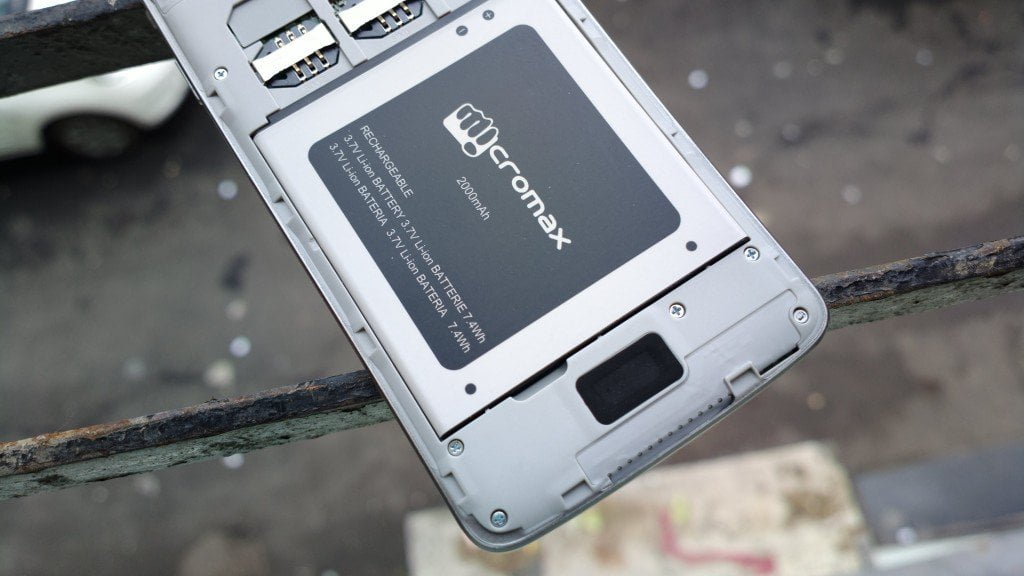 Capacity: The phone houses a 2000mAh battery.
Apps Used: Calls, Message, 4 Email Accounts, WhatsApp, Facebook, Messenger, Twitter, Microsoft Camera.
Day Wise Report.
You will need to wait for at least 2 charges to get the battery performance you expected from the phone. Below are day-wise results when used with a combination of WIFI and 3G as internet sources.
Day 1: 15 to 16 hours with casual usage
Day 2: 12 to 14 hours with Gaming, Music, and heavy WhatsApp usage.
Day 3: 18 to 19 hours on Casual Usage.
Day 4: 15 hours on very heavy usage, including an hour of gaming and music over speakers.
Day 5: Same as day 4. This was to make sure I am getting the right result.
That said, the battery will survive for a day, and you should be at your rest place by then. It doesn't mean it will give up on you if you don't charge after 18 hours, but it means you should not be used for anything heavy, and it can survive the night with a battery saver on.
Storage:
How much is available during the first setup:  The phone comes with 8 GB of internal storage, of which you get 5.3 GB to use.
Was it enough:  8 GB of internal storage is more than enough for regular usage, and you don't need to get a microSD right away? However, if you need it, I would highly recommend grab a microSD card of Class 10 and move all your apps. That class will make sure that you get performance and space both to get you the best experience.
OTG: It is still not supported in Windows Phone 8.1
Audio Quality:
In-call quality is excellent. After using it for 6 days, I had no problems. The audio is loud and clear.
On Speakers: It comes with powerful speakers, loud and clear enough to listen to music, watch movies, and play games. Because of a slightly curved rear and protruded camera module, the audio remains as loud as when you are holding it or keeping it on the table.
Using Headphones: While this experience will differ based on the type of headphones or earphones you use, overall, it is good even though the phone doesn't have Audio Settings, Equalizer, and even Dolby Support.
Dual SIM Support
The phone comes with DUAL SIM Support which supports 3G. Also, Windows Phone has many Smart Dual Sim features that I have covered in general here. Do read about it.
F.A.Q
The phone has all the sensors except for the compass.
It supports a microSD Card, and apps can be moved or installed directly to it.
You cannot play HD movies. Max support is for 854×480
There is a notification center available as it has Windows Phone 8.1 out of the box.
Cortana works, but you need to install developer preview.
There is no way to zoom in and out during or before captures.
Conclusion:
Absolutely recommendable phone at this price, but the heating issue and touch response bring the overall score down. If you are not much into gaming, you can live with the touch response with the advantage of having a big phone, high-resolution display, good camera, and decent battery life, which at this price is impressive on Windows Phone.