When I use speakers of my Lumia 820 to listen to music, sometimes I just wish it was loud enough so I don't have to use earphones. Though understood that we are supposed to use earphone or headphones but then there are many who would love to listen via speakers. The only reason for this is to keep our self free from wires. That said wireless headphones are best to use but not every one can afford it keeping in mind the high prices.
So we picked up Sonivo Easy Speakers from Mobile Fun UK to find how it works. These speakers are not Bluetooth enabled nor have NFC but works on amplification principles –NFA. It stands for Near Field Audio which can amplify sound coming out from mobile's speaker. Below are the details of how the speaker is from build quality,  performance and value for money factors.
Video Review:
What is in the Box ?
Speaker
Mini USB Cable
Two Sided 3.5mm audio cable.
Manual
How to use it?
Play a music on your phone and make sure the volume is high enough.
Place the speaker side right on the mark of the top of the Sonivo Speakers.
Turn the speakers on and you should see instant increase in volume.
If you carefully notice, the audio you hear now is coming out from the speaker rather than your phone.
Remove & place it back quickly to know the difference.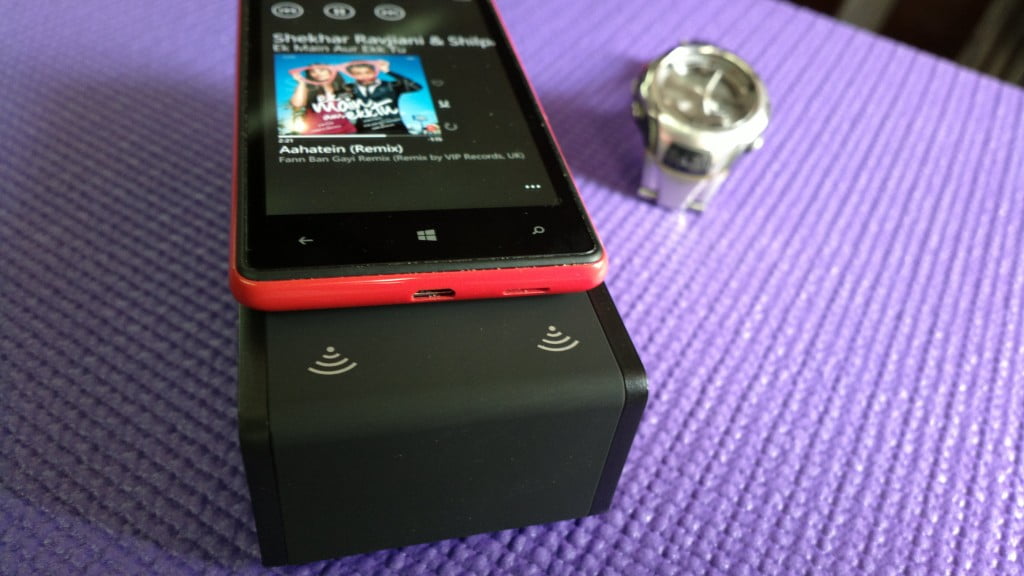 Build Quality:
The speaker is light weight but still maintains a strong build. While this does not mean you can throw it on the floor or run car over it but when you hold it, the product doesn't feel plastic.
The speaker has metallic casing. Of the four sides, Two sides have cage like structure while the other two are matt finish. The metal caging side holds the speakers inside and opposite section has charging point, on off switch and audio jack. The top and bottom are matt finished. The left top section of the speaker, where you keep your phone, is marked so you know where the speakers of the phone should be pointed towards. The bottom of the speaker has four small legs made of strong plastic and keeps it bit high from the level ground.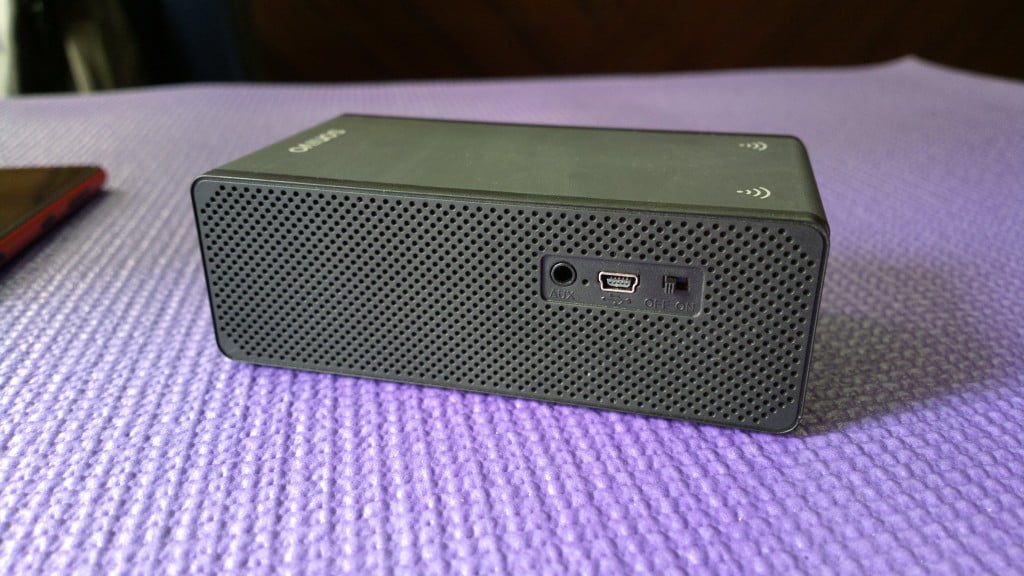 Audio Quality:
The speakers inside the unit are of 3W . This is good enough to deliver loud music. The amplification is instant and you will barely notice sound from your phone except if the speakers are powerful enough like in Lumia 920. We will talk about which Windows Phone will work best with these speakers.
When I played  music in full volume, some of the songs did not do well as the bass was way to heavy to be handled by the speaker. However when I played music keeping volume around 70% the result was very nice. There was less distortion and better clarity.
If you feel the NFA is not doing well, it comes with 3.5mm Audio In and audio jack which you can use to connect with your phone or anything with audio out. The advantage of using it with a wire is that you can use the Windows Phone Equalizer with this.
Battery Performance:
These speakers have 800 mAH battery power which runs for 6 to 8 hours long. When used with audio jack only, it lasted for 10 hours. I tested it with leisure ( 2-3 hours a day) and constantly for a day till the battery gave up. It takes at least 2-3 hours of charging time. Honestly I cannot measure it because there is no indicator here.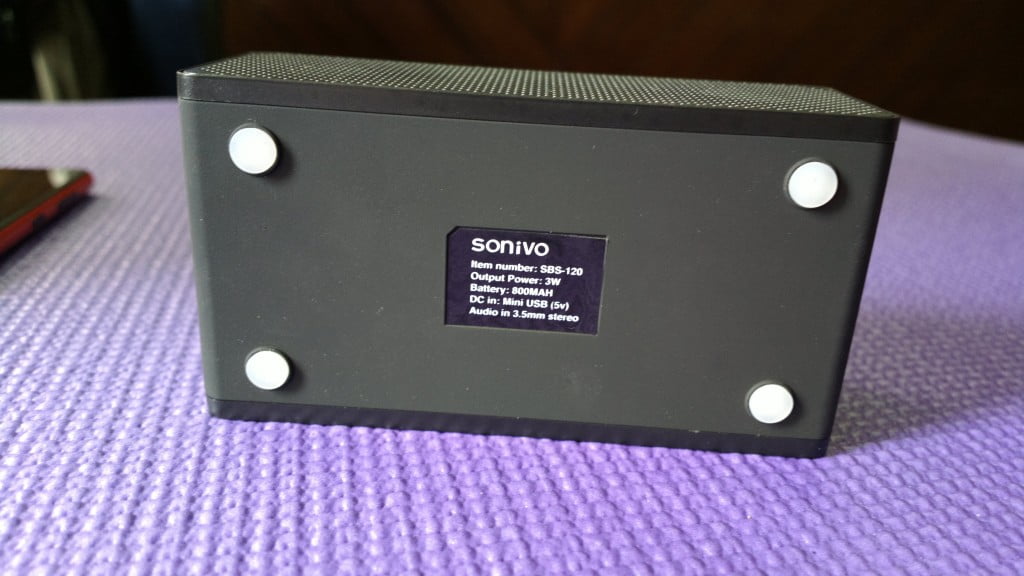 Value for Money:
Since most of the phones have speakers on the backside which blocks sound when kept face up, these speakers are great solution at this price. The speakers cost 20 Pounds or 31$, comes with rechargeable battery, audio in and last for 8 hrs straight. Portability and light weight makes it a great choice for carrying it wherever you want and keep it anywhere.
Which Windows Phone can be used with these speakers?
Technically speaking any phone with external speaker can be used with it but to my experience a phone with less speaker power and positioned at the back or at lower end of the side works best. As an example Lumia 820 speakers are at lower end and worked extremely well. Same goes for Lumia 720, 620 and 520 phones.
Only exception here is Lumia 920. The speakers are on side and very powerful, it did not work well.
Drawbacks:
No Battery level indicator.
No Volume control.
The input to charge the speakers are miniUSB. Since micro usb is a standard for all phones, you won't able to use the phone charger with it. However if your phone come with a separate charger head with USB input, you can use it.
Where to buy from?
This review unit was sent to us by Mobile Fun from UK. The product is listed here and if you are looking for more speakers, you can check out the speakers section on their website.