I have always loved racing in traffic (not in real life but in games), and as a lover of those sort of games, I downloaded Traffic Racer the moment it was launched for Windows Phone. For those who don't know, traffic racer is a very popular game on Windows Platform  by the developer by Soner Kara. It has 4.5 starts with over 1.8k ratings in the Store.
In Traffic Racer you would have to drive your car through highway traffic. Now, the new game Traffic Rider, from the same dev follows more or less the same concept except the fact that it has a better gameplay, better graphics, much more addictive and lets you hit the roads with a motorcycle instead of a car.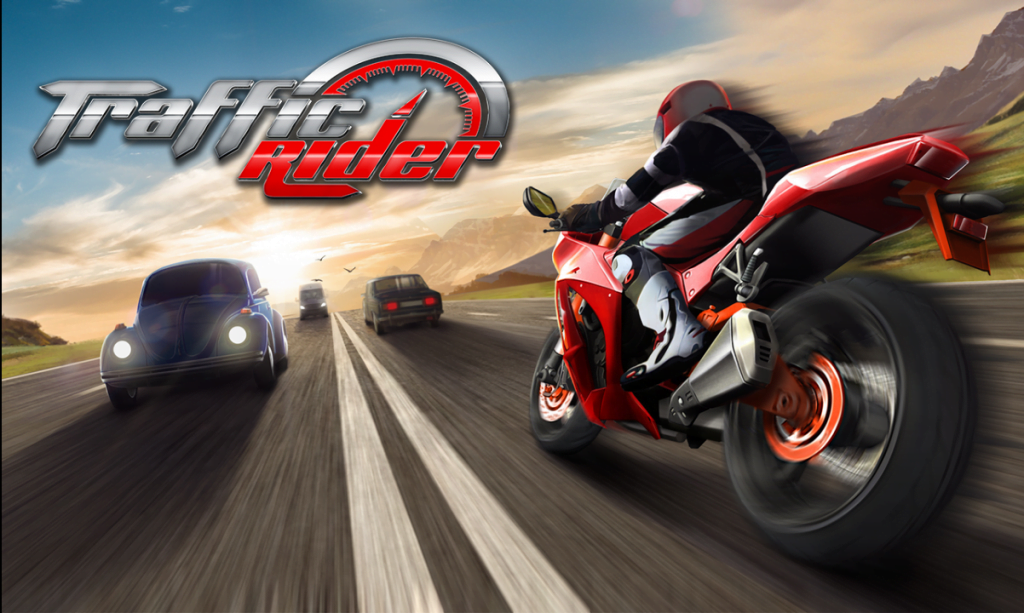 This time, you are behind the wheels of a motorbike in a much more detailed gaming experience, but also retaining the old school fun and simplicity. Traffic Rider takes the endless racing genre to a whole new level by adding a full career mode, first person view perspective, better graphics and real life recorded bike sounds.
The essence of smooth arcade racing is still there but in the shell of the next generation. Ride your bike in the endless highway roads overtaking the traffic, upgrade and buy new bikes to beat the missions in career mode. Now it is time to hit the roads with a motorcycle!
Before jumping off to the review, lets look at some features and tips of the game.
FEATURES:
First person camera view
20 motorbikes to choose from
Most of the bikes are Indian like Hero Im
Real motor sounds recorded from real bikes
Detailed environments with day and night variations
Career mode with 40+ missions
Support for 17 languages
TIPS:
 The faster you ride, the more scores you get
When driving over 100 kmh, overtake traffic cars closely to get bonus scores and cash
Driving in opposite direction in two-way gives extra score and cash
Do wheelies to get extra score and cash
Let me begin this review by telling you how I got to know about the game. So, one day in my college few of my 'Android' friends were playing this game, and I didn't really bother looking at what it was, as somewhere deep inside I was thinking – "What's the point of even looking at the game? It's a new game for Android so obviously won't be available for Windows, yet or won't be available at all".
But after listening about it the whole day and how awesome this game was, I decided to give it a try! I asked my 'Android' friend, to give me his One Plus with the game. I played it once, and I was already so attached to it. The game turned out to be far better than I was expecting it to be. The graphics, the gameplay, controls everything was perfect. From college till I reached home, only one thing was going in my mind –" Traffic Rider for Windows? Yay? Nay?"
Well, this confusion was cleared when I fired up Store in my phone and searched for it. I was surprised (say shocked) to see that the game is available for Windows Phone! I downloaded it, and played for an hour or so. I was already so addicted. This was my experience which I wanted to share, check out review of the game below.
The game is pretty smooth and has an amazing gameplay. The map is pretty massive with over 40 levels, as well as bonus objectives for reaching a better clear time. Firing up the game will take you to the main screen where you will see your motorcycle. You can just swipe on your motorcycle to get a 360 degrees view. There are quite a few options below, like: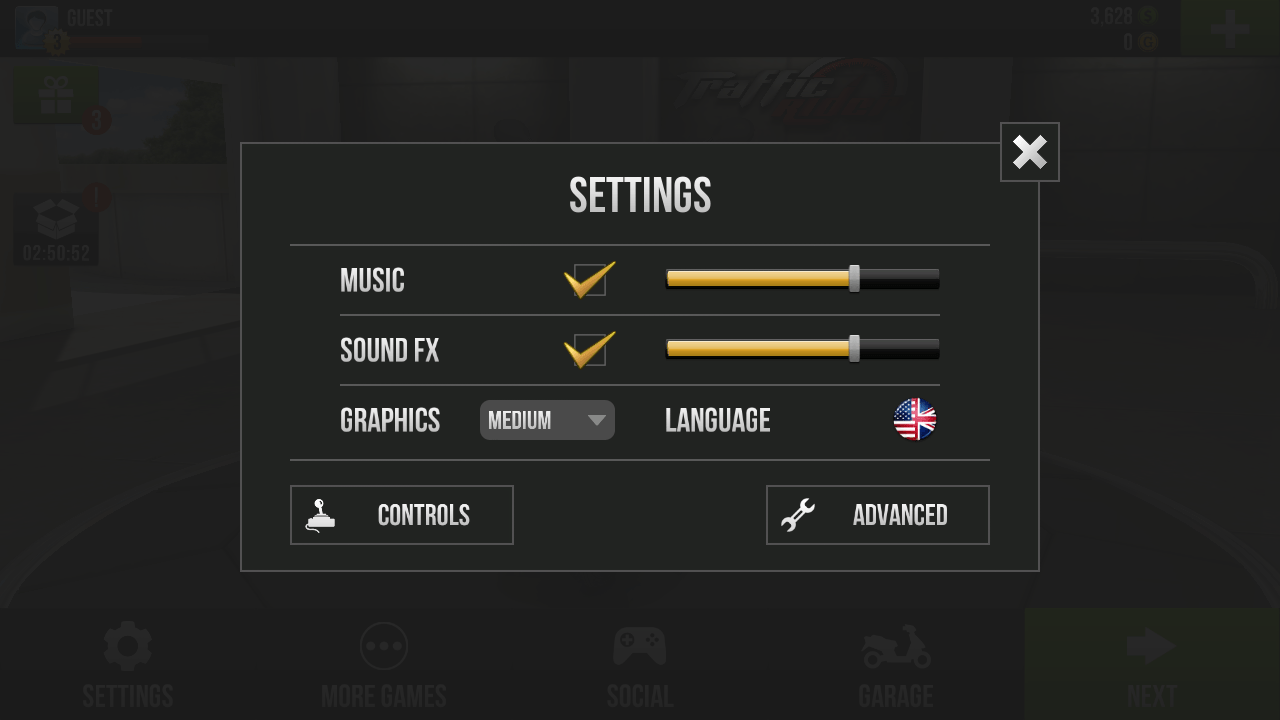 Settings: where you can control the volume of the Music and Sound FX, Graphics Quality – keep it low, medium or high, change your language, Controls – has loads of options like Steering control, Brakes, Sensitivity etc.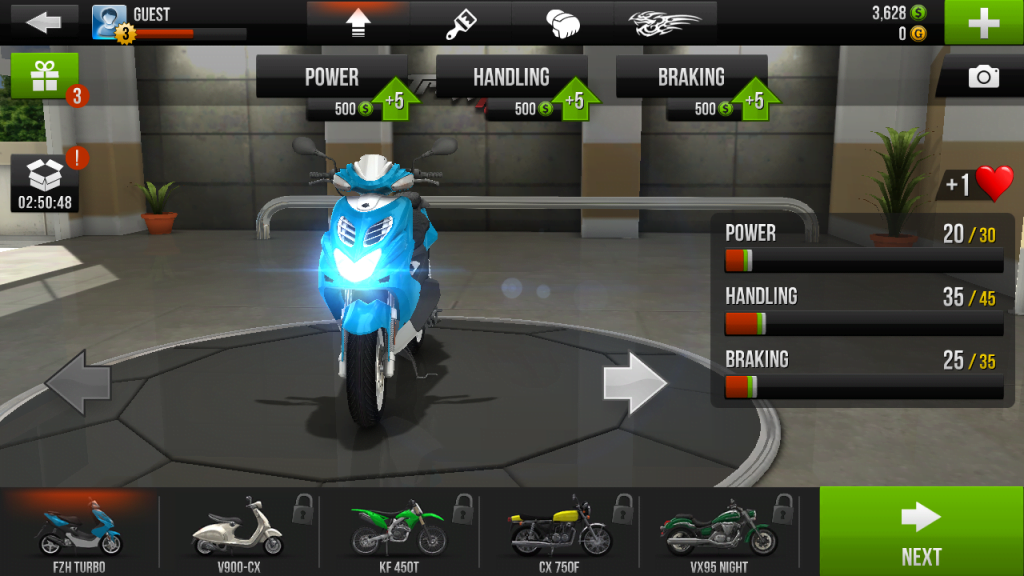 Garage: Here you can buy a new motorcycle, boost your power, paint your motorcycle, get some gloves etc.
Talking about how the game performs on Windows Phones. Yes! It performs well but no as well as it does on Android. But mind you, I played this game on One Plus and my Lumia 640. So obviously there will be differences, as processor and GPU plays a very important role. Those having Lumia 950 or 950XL please try out the game and let us the know how it performs.
Performance
Coming back, the game is equally good on all the platforms. But on my 640, it lags twice, exactly twice, during each race. Once after you have finished 20% of the race, and once when you're left with the other 20%. However, this lag is only for 2 seconds and doesn't irritate much. Neither does it stops you from racing again. The game is very simple, the only thing is to be done is:
Keep your speed above 100 kmph, and earn bonus.
Do near miss and earn extra points.
Do wheelies.
Earn extra points by riding on the wrong side of the road.
Reach the destination before the clock tickers.
Note: These things shouldn't be done in real life, and we're not responsible even if you try these things anywhere apart from the game (Pun intended!). Summing it up, there are only two drawbacks of this game. One it lags twice during the race (not always, though but when it does, it makes sure it lags twice), and the cost of in-app purchases ranges up to 6k, which is too damn costly!
Apart from these two, I don't think it has any other drawback. The game is perfect for those who like racing in traffic (Again, not in real life), who needs a good game to pass time, or who just wants to play something. This game is for everyone. Even children can play the game because you can always turn off blood by going to Settings.
Download Traffic Rider from Windows Phone Store.