Windows Defender is a rock solid Antivirus program which comes in-built with Windows 10. It does it job well, and never slows down your Windows 10 PC. However the fact is that there are many third anti-virus program available, and they are widely used. Thats gets you the question if you really need to disable Windows Defender program to use them, and what if you wanted to use two antivirus programme side by side. Technically you can run only one, but this new feature in Windows 10 lets you use defender on demand.
Windows 10 anniversary update introduces this new feature called Limited Periodic Scanning with Windows Defender. It allows you to scan when you use a third-party antivirus on your Windows 10 PC. Part of the Automatic Maintenance program, it ensures that your PC doesn't get infected in case third-party software fails. While nothing can be guaranteed, but having an extra layer of security always helps. This gets automatically enabled when you have a third part antivirus program installed.
Go to Settings > Update & Security > Windows Defender > Turn on Limited Periodic scanning.  You can always turn  off "Limited Periodic Scanning" if you completely rely on Third party program.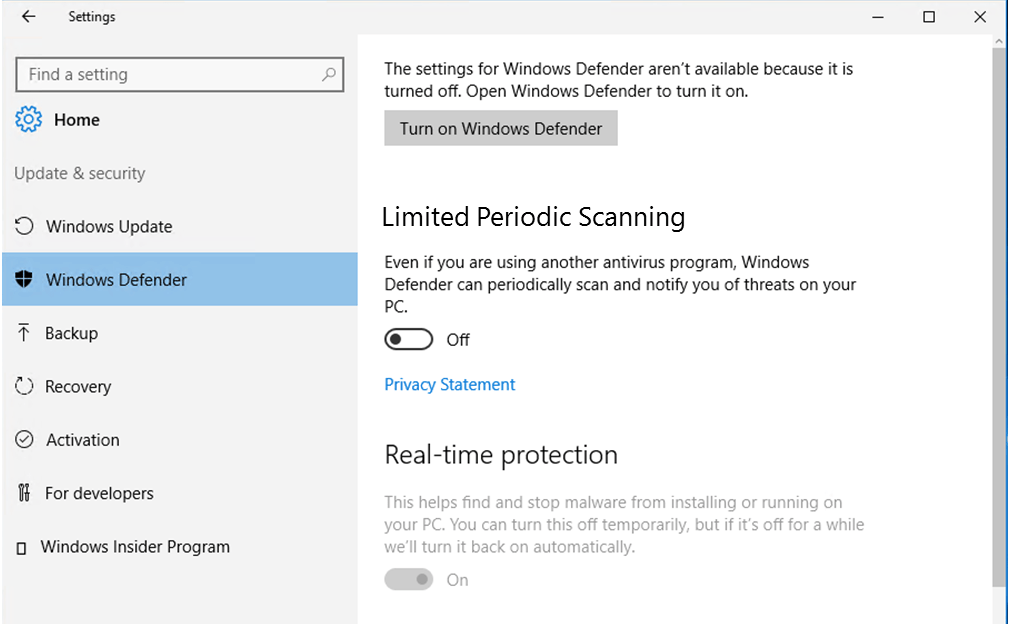 Remember this is different from Windows Defender offline feature which is useful when you want to clean a malware or a virus which cannot be removed in usual ways. It restarts your PC, and gets into offline mode, and then scan.