Prior to Windows Phone 8.1, I was able to post pictures to both Facebook and Twitter without adding the messages twice. This almost simultaneous posting helped me skip using individual apps. However, the awesome update is more app centric and not only I need type in the message type but cross posting takes more time.
We talked about an app "My Social Target" which allowed you to post to these networks simultaneously. This app was renamed to Unishare and rolled in important feature—it now allows you to post pictures along with the message, simultaneously, to Facebook and Twitter.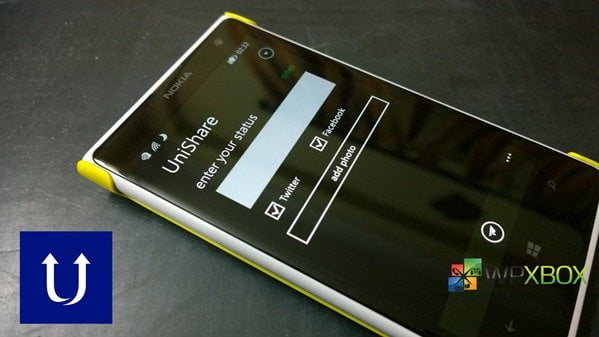 It uses the API to post with your permission and you can hook to the original Me Tile as the default sharing app or completely skip and use the live tile to get the job done.
Once you have the app installed and social network configured, there is an button which will ask you install the photo sharing featured. This is similar to in-app purchase but its free. Once installed you will have the file picker which allows you to upload pictures from your Camera Roll and other photo albums. The app posts updates on by one and you will have a confirmation message for each.
Suggestion:
I have been asking this to dev from the day I saw it. recent notification from Facebook and Twitter, the way the Me Tile was prior to update. The reason I ask  is then i don't spend extra time waiting for apps to load, as I am only concerned if I have nay notification
Another request will be to let users sign-out of any social network that's connected there. I have heard  many users would like to have this as an option.