Smartron, a Hyderabad based startup, in which Sachin Tendulkar invested, and also became the brand ambassador, introduced t.book around mid of this year. It follows the Microsoft popular category for 2-in-1 segment, and after using it for over two months, this sit about I feel about the device.  I am glad the company  didlet me kept the device for this long for getting a clear idea.
Quick Take :
Currently, India has tons of 2-in-1 laptops ranging between Rs 9,000 to Rs 15,000, and t.book has done things right except for few hiccups here, and there. Its not perfect, but looking at the state of the laptops in this range, its a good fit.
t.book has its own advantages in multiple ways. Right from Design, Build, the kickstand, and the dual colour profile, the laptop also includes multiple way to connect devices including 2 USB 3.0, Micro-HDMI, Type C with USB 3.0 ports. Even tough it is not powered by a high end processor, the Intel Core M, and 4GB ram is enough for day to day usage.
Well, this does not mean its perfect. Its more of imperfect deal thanks to its reflective display, the over sensitive trackpad which can drive you nuts many a times, and tablet form is just too heavy for being a tablet.
Design & Build
Surface did setup an industry standard for 2-in-1 laptops, and if t.book reminds you of that, its no brainer. However it takes more than inspiration to come out with a product thats useful. t.book has done a brilliant job on this part.
The first thing that will catch your attention is dual colour profile of orange-grey which will make your laptop stand out. It looks different, and good.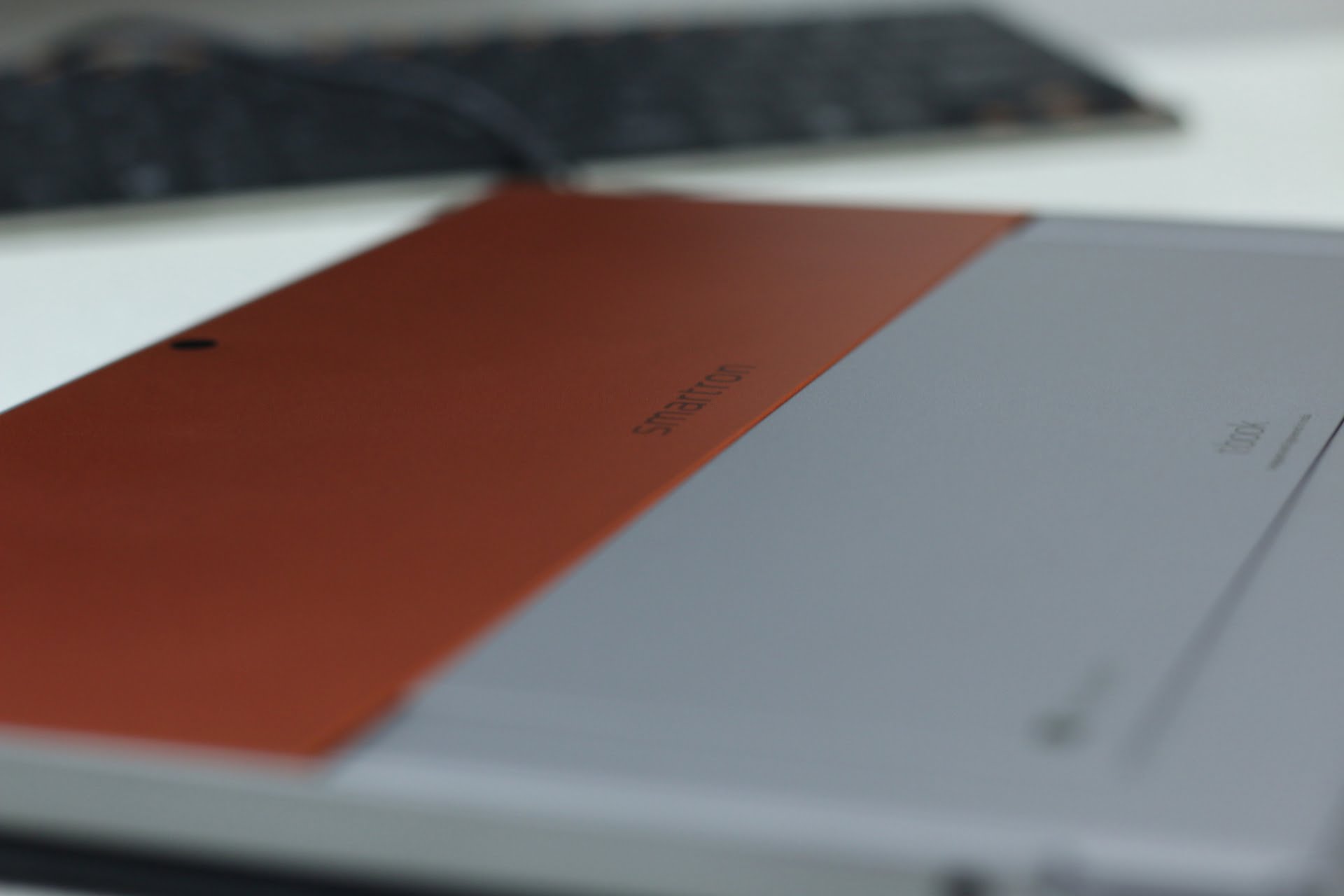 Next in the line is a kickstand which unlike Surface has frame like style instead of a complete stand, and it does the job well, except that you don't have lot of angles. Also the stand looks like the weakest.
What I liked best about t.book is the feel you get when holding it. It doesn't give you a rubberised, plastic feel instead the magnesium-aluminium alloy build makes it look firm, and solid. This also makes it little heavy for this category which is its own drawback.
This slideshow requires JavaScript.
In the quick take, I mentioned about its connectivity part. This is something which gives t.book super advantage. You get 2 USB 3.0, Micro-HDMI, Type C with USB 3.0 ports which will put lot of smile. All the ports carry speed, specially the Type C which helps in charging the laptop at much faster rate.
Stay warned though. The Charger head is humoungus, and that size makes it imperfect to fit in every condition, and not to forget, the length of the cable is way to short for Laptops.
Keyboard
The good thing about t.book is that the detachable keyboard comes bundled with the laptop. It snaps with the tablet at the bottom using magnets, and its snappy.
Coming to usability, its a full fledge keyboard , and you get access to most of the keys, is broad enough to put down your palm.
This slideshow requires JavaScript.
One thing which I absolutely hated about t.book keyboard is its not very sturdy, and typing on it makes you feel like its flexing making one very uncomfortable. I guess the problem is that its thinner that usual.
Trackpad Oversensitivity:
The problem that your mouse pointer can go anywhere it wishes so kills the whole experience. When I started with t.book, I had kept it aside for more than 20 days because of this problem.
Later with updates, the problem has solved by at least 50%, but its still there. Cursor Jumps, Accidental clicks, specially when editing long posts, is painful. I am guess software fix is not a solution for this, but the updates give hope that this will be fixed.
Hardware
I usually stick to talk about performance more than talking about specifications, but for the sake of it, here is what it includes.
Smartron t.book is powered by  an Intel Core M Broadwell processor clocked at 2 Ghz, and 4GB RAM. The graphics card is  . The whole specification is much better compared to those 2-in-1 laptops which is powered by Atom processor. Well there is no magic, as the price is also set to compete with standard laptops that users tend to buy.
One of the biggest advantage is that there is no fan here. It runs pretty smooth on Windows 10 for everyday multitasking, casual gaming and so on. However stay assured that it does heat up when you extend the duration of game play, and video edits which is expected.
Coming back to hardware, the battery lasts for 5 to 6 hours tops which is good enough compared to 2-3 hours of battery life you get from other laptops. Type C port charging makes sure that laptops charges up rather quickly.
It also houses front, and rear camera which is ok-ish for video calling, but don't expect a lot.
Display
Coming to display, it sports a 12.2 inch WQXGA (resolution : 2560 × 1600) IPS display. The cours look great, and so is the viewing angle but the screen is very glossy, and reflective which spoils it. If you are working on board daylight, make sure to hit the brightness bar high.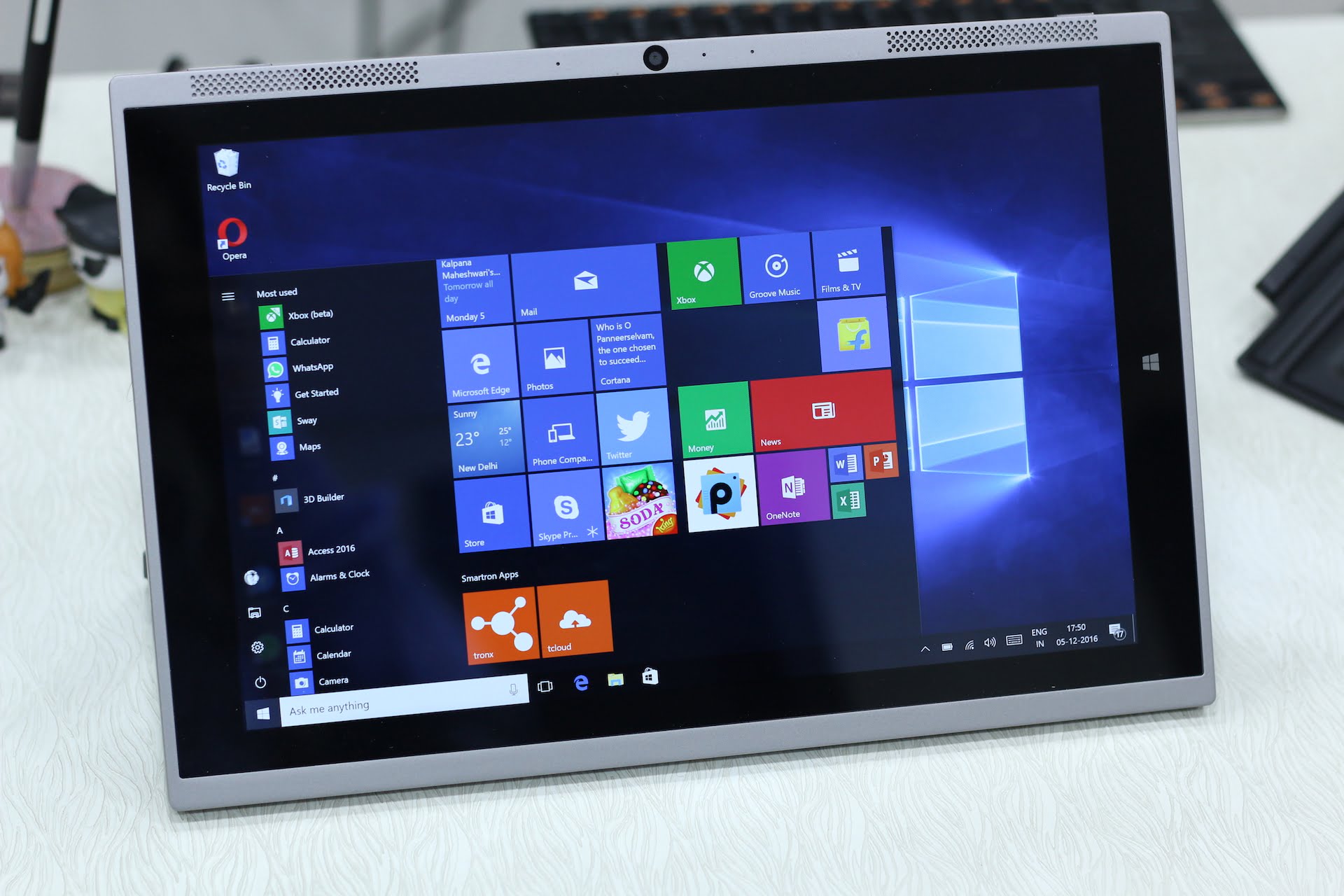 Windows 10 on t.book
Now lets talk about real performance, and its decent if not great. Windows 10 64-bit edition runs out of the box. Thankfully, there is no bloatware which is known problem with Laptops from Dell, Lenovo, and few others.
t.book however comes preloaded with Microsoft Office 365, and  Smatrons in-house software which is limited to two–Hubtron, and t.cloud. While the former is to buy Smatron products, later is its cloud solution for backup, and storage. t.cloud is free for life.
Media Experience: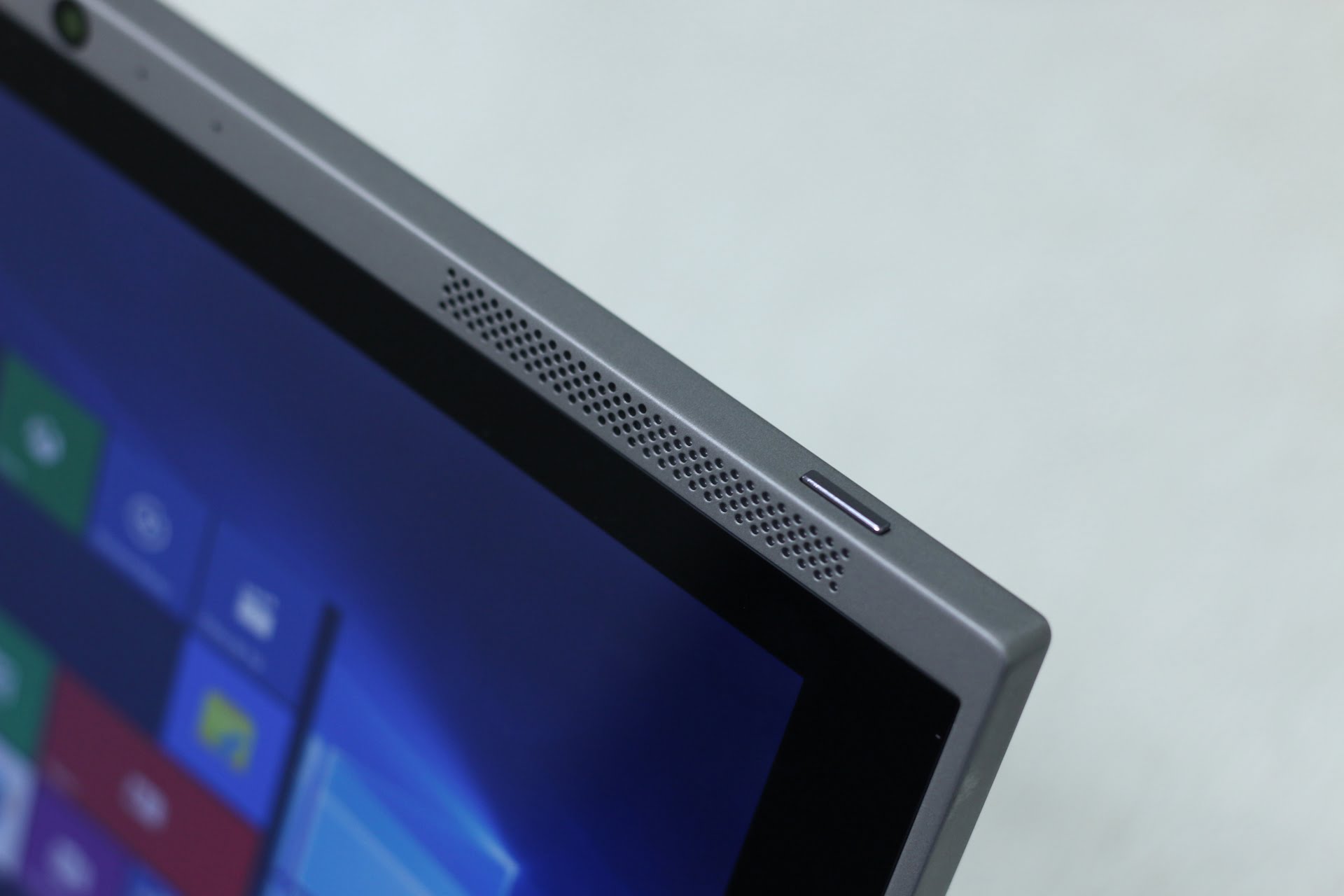 t.book  has front facing speakers, which is good thing, but it miserably fails on loudness. Even when set to 100%, its not loud, and that kills the experience of Movies, and Games. Most of the time you will end up using earphones.
Conclusion & If you should Buy it?
Priced at Rs 40,000 where finding a powerful laptops becomes dicy, t.book has placed itself smartly between cheaper 2-in-1 segment, and the high end ones. The form factor, decent performance, build makes it attractive.
Windows 10 runs smoothly on it, but the annoying touchpad issue, and dull speaker output  still remains in limelight.One other major drawback is the tablet weight. Its very heavy for anybody to use it single handedly.
Overall it is ok, but keeping in mind the drawbacks, it becomes though to highly recommend it. I would suggest the company to work on its firmware updates to solve the touchpad issue, and hopefully in next iteration, we will see sturdy keyboard experience.