While Skype has been one of the most popular ways to make video calls, past few years things changed. One of the biggest hurdles using Skype was creating an account, if you want to use it only once in a while, it can be a bit too much. However, Microsoft opened up, and it allows users to use Skype without an account. In this post, we will learn how to start a Skype chat and Skype video calls without a Signup.
Skype Guest Account Update
Microsoft announced that users can now use the Skype app as a guest user that doesn't require registering for an account or downloading the application itself. The main motive behind such changes is to allow users to open up a quick chat or video call if participants don't have the same to register themselves for an account.
This announcement was brief, but it resulted in numerous significant changes. Guest Accounts are now available on Skype for Web. If you're not familiar with Skype for Web, it's simply a web version of the application that allows you to use the service without downloading the Skype app. As a result, to use the guest account feature and make voice or video calls without creating an account, you must use Skype for Web.
Guest Accounts On Skype Features
One question might arise in your mind: what features do we get if we use the new guest account feature on Skype for Web? Do we get full access to all the features? Well, the answer is not quite. Here's a list of features you get when you use Skype as a Guest. However, you do get all the free features available to you in Guest mode, including:
One on One and group instant messaging.
Group video calls.
Group voice calls.
Screen sharing feature.
File sharing.
Apart from these valuable features, you also get the option to invite over 300 people to chat with. And up to 25 users can join you over a voice or video call at once, making office meetings or classes more ideal.
Limitations For Skype Guest Accounts
You must know certain things before using Skype chat and video calls without the need to sign up.
First and foremost, to use Skype without creating an account, use Skype for Web as this feature is not available for the application.
Others can join your conversation using any Skype client or join as a Guest using Skype for Web.
If you use Skype as a guest, your conversations will last for only 24 hours.
A Real-time Skype translator is not available if you're using Skype as a Guest. Signing into Skype is required to avail of this feature.
These are all the things that you need to keep in your Mind before following our guide on how you can use Skype without creating an account. So without further ado, let us begin with our tutorial.
How To Start Skype Chat, Video Calls Without Signing Up (Skype Web)
It is an excellent addition to the Skype service, but it is not without drawbacks. While it is is not a substitute for joining Skype because the conversations you have will not be saved; therefore, essential texts and documents cannot be shared while in Guest mode. But, in any case, follow these steps to quickly begin Instant Messaging and voice/video conversations with your friends or colleagues as a Skype guest:
Starting A Conversation With Skype Guest Account
Go to Skype.com and click on the Host a meeting link or go directly here. 
There, enter your name, and click on create a free video call. Your entered name will be visible to other participants who'll join your conversation.
Now, Skype will provide you with a sharable link to share it with your colleagues or family members via any social platform.
When another user clicks on your link, they can join your conversation.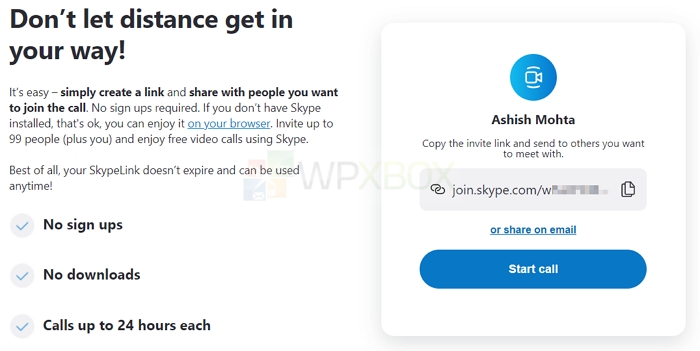 Joining A Conversation With Skype Guest Account
Click on the Join Link from your friends/colleagues. If you already have Skype installed on your device, it'll automatically launch. If you don't, from your desktop, you can join as a guest on Skype for Web.
Select Join as Guest. Now you can join the conversation; however, the guest conversation will last only for 24 hours, as previously mentioned.
Can I Use Skype With A Gmail Account?
No, you cannot use Skype with a Gmail account or an email account from any provider other than Microsoft Outlook. Skype previously used to allow signing up with emails from other service providers, but not anymore.
Can Someone Find My Skype With My Email Address?
No one cannot find your Skype account with your e-mail address as Skype does not disclose your e-mail address to other users. To find your Skype account, they'll need to enter your Skype username.
This concept isn't new. Numerous other applications with similar concepts provide the same functionality with some tweaks. However, there's no denying that Skype has now got potential and brings new users on board with each passing day.
Using Skype without creating an account is both efficient and time-saving. There's almost no setup required, and you can start or join a conversation in seconds. We've also discussed the drawbacks of using the Guest account; if only it had a feature that allowed you to export your chats from the Guest account to your original Skype, it would've been the ideal tool. Nonetheless, it would be best if you gave it a shot because it is still a feature-rich application.