Generally, Outlook users don't need to repair OST. This is because when an OST file becomes corrupt, the user can delete the file. Then Outlook automatically recreates it when the user starts the application again by downloading data from the Exchange server. However, Outlook users can't open offline Outlook data files (OST) when Exchange connectivity is lost. In that situation, the only way to recover the encrypted mailbox data inside the OST is by converting OST to PST file format. This conversion is only possible by using a third-party OST to PST converter software.
The following are a few things that Outlook users seek in a reliable OST to PST converter software:
Simple process to convert orphaned OST file to PST
Safe conversion of OST to PST
Easy-to-use graphical user interface
High conversion speed
Multiple file format options (PST, PDF, EML, MSG, etc.) for saving OST data
A detailed preview of OST data before saving it to PST
Option to directly export converted OST file to Outlook, Office 365, and Exchange server
Split and compact option to manage large OST file
Facility to convert multiple OST files
Stellar Converter for OST is one such advanced OST to PST converter software that fulfills all these conditions.
When to Use Stellar Converter for OST?
Stellar Converter for OST software can be used in the following situations:
When a user mailbox is deleted from Exchange Server or the server is down, you can use the software to convert the locally-saved OST file to PST.
There are certain local-only items in OST that aren't synchronized with the live mailbox. If the OST becomes orphaned, you can't restore the local-only items when you recreate the OST. In such cases, you can use Stellar Converter for OST to extract and convert all the data, including local-only items, to PST.
Converting OST Files with Stellar Converter for OST
Stellar Converter for OST is one of the best software for OST to PST conversion. It converts all OST mailbox items, including emails, attachments, calendars, contacts, etc., without any data loss.
To evaluate the functionality of Stellar Converter for OST, I decided to test the software. Here are my findings.
I launched the software, and the first thing it required was the OST file's location. Since I knew where I had saved the OST file, I clicked the Browse button and provided the path to this file. The software also provides the Find button if you don't know the OST file location.

When I clicked Convert, the software began to convert the file. It was nice to see a progress bar that gave me a good idea of the conversion speed. Since the OST file was fairly large (around 2.9 GB), the application took a while to complete the process.
There is also a Find Message option in the top menu of the software. It allows the user to find messages based on header fields, such as To, From, Subject, etc.  You can also select a date to filter the emails. This function made it easy for me to filter emails from some specific email addresses that were important.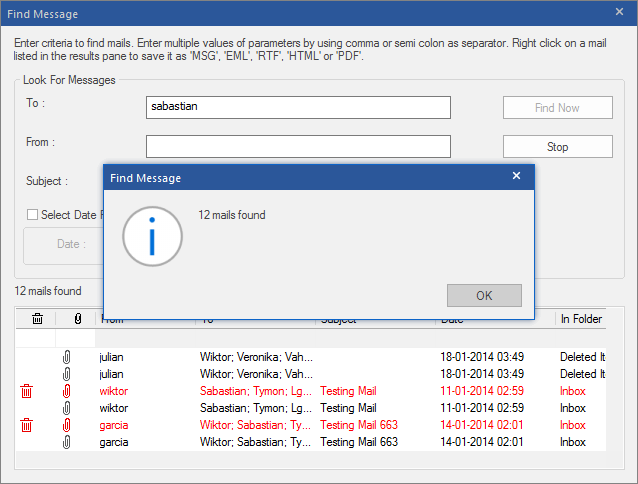 I selected the folders that I wanted to convert to PST files and clicked the Save Converted File button on top. A new window opened showing the available file formats – PST, MSG, EML, RTF, HTML, and PDF, for saving the converted data. I selected PST and provided a location for saving this converted file. I also selected the "Do not convert Deleted Items" option as I didn't want to save the deleted emails in the converted PST. Then I clicked OK.
The software displayed a progress bar when saving the PST file. Once done, it displayed an alert notification.
Based on my evaluation, I can say that converting the OST file with Stellar Converter for OST is a seamless process. Even those users who don't have strong technical skills can use this software without any issues.
System Requirements
Processor: Intel-compatible (x86, x64)
Operating System: Windows 10, 8.1, 8, 7
Memory: 4 GB minimum (8 GB recommended)
Hard Disk: 250 MB for installation files
Pricing and Support
Stellar Converter for OST is competitively priced. It's available in three editions – Corporate, Technician, and Toolkit, with each having different features. Many Outlook users and administrators will appreciate this pricing structure as it allows the user to pay the best price for exactly the features they need.
For instance, if you have to convert only a few OST files to PST, you can purchase the Corporate edition that costs $79 and converts up to 5 mailboxes. If you have to convert many OST files and export these files to live Exchange or Office 365, you can purchase the Technician edition of the software for $149.
Final Thoughts and Rating
Stellar Converter for OST is easily the best OST to PST converter available today. It's user-friendly, highly secure, and offers many features for converting OST files in different scenarios. I would give it a rating of 4.8/5.0.