Nokia is playing a major part even when it comes to software updates, which actually Microsoft should have addressed. Right after tons of people were hit by a Storage issue, one of the software updates from Nokia introduced a Storage checker, which worked well when compared to Storage Clear app, which tricked the OS.
Update: This is now inbuilt in the Windows Phone 8.1 Maps system. You need to go to Settings > Maps > Download Maps and select a location to download.
Keeping the efforts up, the Lumia Storage Checker team has thrown up another advancement in their Storage Checker app, which now allows you to move Maps data to SD card.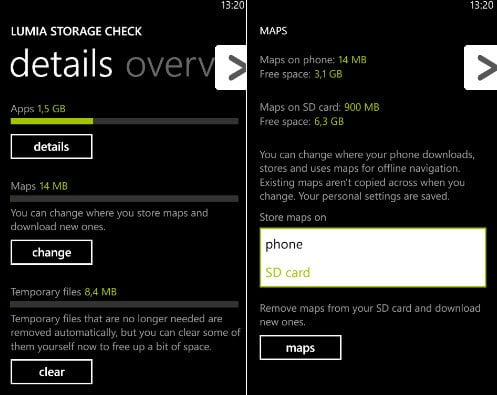 This is a big-time boon for Lumia users who own devices like Lumia 520, 620, 720, and 820, well everyone except Lumia 920 users. The same update will be available to even Lumia 920 users, except that moving maps to anywhere else has no meaning here. Though nothing is sure, Microsoft or Nokia might allow games to be moved to SD card also. Let's hope for the best.
According to Nokia Beta Labs, apart from moving Maps to micro SD card, you can also view your videos data separately. You will also be able to launch the Maps section in the setting right from Storage Checker.
SD Card? Yes, but you cannot move existing maps.
Now here is a big catch; The storage checker clearly says that you cannot copy existing maps to an SD card but only can set where the Maps will be stored from thereafter. This means that if you have any existing map that you want to move to an SD card, first change the storage option here and then download the entire map.
IMO this clearly points out that there is no API to access the stored data, or at least Nokia does not have access to it, but since they have control over their apps, this setting can let you set the destination of the Maps.
Who can try this?
Technically it can be installed on any Lumia user having any of the below-mentioned updates:
Lumia 820 or Lumia 920: 1232.5957.1308.0000 and higher
Lumia 920T: 2041.0009.1308.1002 and higher
Lumia 520, Lumia 620, or Lumia 720: 1030.6407.1308.0000 and higher
I installed this on my Lumia 920, which already has the Storage Checker update rolled out a couple of days back. I don't see any option which points to the SD card (because there is none), but you can launch the Maps right from there, which you see in the second screenshot above.
Download Lumia Storage Checker:
You can download by following this link or by scanning the QR Code below. In case you aren't able to install this, it means that either the phone you are checking on is not supported or the software update is not installed on your phone. This will get installed in your App Listings and will not appear in your phone settings.