Being at the beginning of the game designer career, you surely deal with various doubts. What path to prefer? How to choose the profession for the rest of your life? You want your job to be interesting and inspiring, but is it possible when you spend days and nights in front of your computer? There are also plenty of other challenges to overcome and questions to answer.
Even if you consider yourself the most passionate gamer, it doesn't mean you'll be happy designing games. It would be best if you understood the difference between passion and a job, friends, colleagues, hobbies, and duties. It is essential to work with people from a dedicated development team who contribute to the common result and share the different areas of responsibility, visit the website for instance. Before diving in, weigh the advantages and disadvantages to decide if being a game designer is right for you.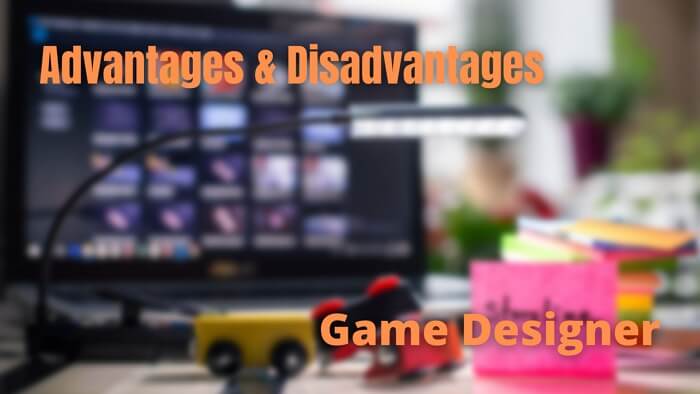 Reasons Not To Choose a Game Designer Profession
When analyzing video game designer pros and cons, it is better to start with disadvantages and don't waste your time if you're not ready to deal with them. However, it would help if you understood that each profession has its flaws, and whatever job you choose, there will be bad days. So, what should you be ready for?
It Is Difficult To Start The Career
In many industries, you don't need a lot of experience to start at the very bottom. Some companies are looking for interns or junior specialists who are ready to teach them. In a game designer career, you have a much higher barrier to entry. It is essential to include a wide variety of skills in your CV. For example, if you're going to be a 3D designer, you'll run into vacancies that include the knowledge of at least:
Photoshop;
Blender, Maya, or other 3D modeling software;
Substance Painter, or another texturing package;
Zbrush, different sculpting software.
Moreover, requirements are constantly changing, and you need to learn a lot before you take your first steps.
The Industry Is Driven By Deadlines
Whatever project you're working on has a deadline. You'll deal with games tied to upcoming tech shows, movies, and other events, and you need to have them ready by deadlines. What if you blow a deadline? We think there is no actual need to explain.
It means that you don't have time to look for inspiration, your team depends on you, and you also need your colleagues to do their parts of the job. That's why many game designers come early, leave late, work on Sundays, and so on. It would help if you were a huge fan of your work to devote that much time to tasks.
The Competition Might Be Severe
Being a game developer or game designer, you realize that each individual is just a part of the team. Each member can be easily replaced, and the more popular this industry becomes, the more people are fighting for their places under the sun. It means that if you want a decent game designer salary, or your goal is to make your name famous, you need to pursue some unique skills, make the right friends, look for new challenges and devote yourself to this profession.
Reasons to choose a game designer profession
Speaking about the cons of this job title, we mentioned cutthroat competition at all stages. Would it exist if the industry didn't have the amazing benefits that keep all these people joining the game development? That's why you shouldn't shy away from your aspirations, even if some things are harder than you've expected. Whatever difficulties you face, you can counter them if you know what you are doing this for. So, there are some game designer benefits that you will appreciate.
Your Job Might Be Your Passion
People who turn their hobby into a career might be the luckiest ones. When you enjoy games, all the issues don't look that terrifying, and daily tasks don't seem boring. You can spend hours trying to improve the game and feel happy when you close the project you were responsible for.
Moreover, you can bring your personal experience to the table because you know what you like and dislike about different types of games.
There Is Always Room for Creativity
Are there people who are in love with accounting? Well, we bet they exist, but this profession is considered extremely boring and tedious. On the other hand, video game design is one of the most creative industries, with things changing all the time and fresh ideas appreciated.
A good ​​video game designer is not someone who knows the software and creates different elements. It is a person responsible for the gaming experience, studies people's expectations and reactions, and implements all this knowledge. There is no limit, so it is up to you if you follow the instructions or think outside the box and generate new concepts.
You're a Part of Big Projects
Even if you're an entry-level specialist, you're involved in game development, which means that you're a part of a huge industry. The industry that changes people's lives. Just imagine, nearly 230 million Americans are playing video games! Obviously, the global market is massive, and even such an international crisis as a COVID-19 pandemic was a booster, not a blocker.
Many people are happy when they are involved in something significant. You can see your name in the titles, show off to friends, visit various events and make a lot of interesting acquaintances. If you feel like this vibe, it would be a good idea to try yourself in game design.
Wrapping things up: how to start your career
Honestly, it is not enough to learn about the pros and cons of gaming from someone else's experience. Well, it is a good idea to dive deeper, ask questions, analyze your aspirations, find as much information as possible, and so on. But you will not find an answer before you get your feet wet. So, it would be a good idea to get more familiar with the industry, find quality training, start building your portfolio and land an internship. Listen to your heart, and you will understand if this job is your perfect match!