Gaming laptops are essential to make the most of VR gaming. People prefer to buy them because they can be taken anywhere and allow users to play as per their convenience. However, it is also important to seek a few qualities that are expected from any gaming laptop before purchasing.
For Instance, does it have a powerful processor and GPU which is required to function properly with VR? Does it offer sufficient memory and storage capacity to play without any lag and store games in the device?
Few people also give importance to the price and wants a gaming laptop that includes better features at an affordable price. Here in this article we have listed the best VR gaming laptops of year 2016.
All these best VR laptops are not good in terms of getting the VR experience but you can play heavy games without fear of lagging or bad experiences.
1. 
Vive Ready HP Computer Bundle
In this package you will get Vive Ready computer from HP and Vive VR system. The VR provides 360 motion tracking and headset provides 110 degree field of view for engaging immersion. The VR headset works fine with SteamVR that offers over 500 games and many more. The Vive desktop app helps  you to get notifications from the phone and let you play in a private environment.
The laptop is powered by Intel Core i5-6400 Octa-core Processor (6M Cache, turbo frequency up to 3.30 GHz) for fast performance. The Radeon RX 480 graphics card provides immersive multi-media experience while playing high-end graphic games. In this package users get 8 GB DDR4 SDRAM for smooth navigation and offers 128 GB solid-state drive along with 1 TB hard drive storage capacity which is more than enough for any user.  The laptop runs on Windows 10 operating system which is fully adaptable to new releases and the latest updates of any game.
It equips Wi-Fi 802.11a/b/g/n/ac and Bluetooth® 4.0 M.2 combo chip for connectivity features 1x HDMI, 3x DisplayPort outputs, 4x USB 3.0 and 4x USB 2.0 ports. It also packs USB mouse, keyboard and DVD Burner.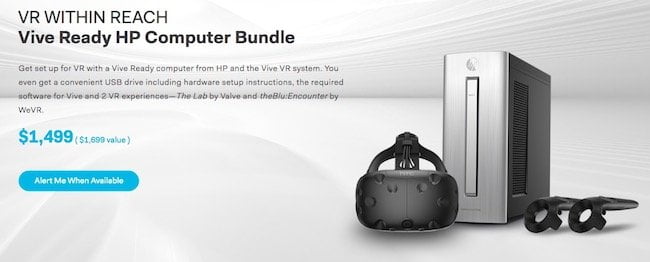 Alienware 17 is one of the most powerful gaming laptop which is specifically designed for VR gaming. This advance gaming laptop is strongly built of aluminium shell supported by magnesium alloy frame to protect the components. The laptop is big in size and weighs around 9.74 lbs (4.42 kg).
The Alienware 17 features wide 17.3 inch screen with an anti-glare coating which provides bright and clear display without having any strain on eyes. Different variants of Alienware 17 offers native resolution of 1080p, 1440p and 4K. Users can plugin the laptop to external Full HD or 3D TV or monitor for cinema style entertainment or gaming experience. The Klipsch certified inbuilt speakers and pre-installed Dolby Home Theatre v4 software takes the audio experience to another level.
The most expensive one is powered by Intel Core i7-6820HK Quad-Core processor (8MB Cache, overclocked up to 4.1GHz). The laptop equips NVIDIA GeForce GTX 980M discrete video card, including 8GB GDDR5 dedicated graphic memory. The laptop offers 16GB DDR4 RAM and runs on Windows 10 (64-bit) operating system.
You can accelerate your gaming performance by creating cool custom lighting and special effects. You can create shortcuts to launch the game as per your choice. The laptop also lets you make and execute game commends quickly and even customize the sensitivity of your touch pad.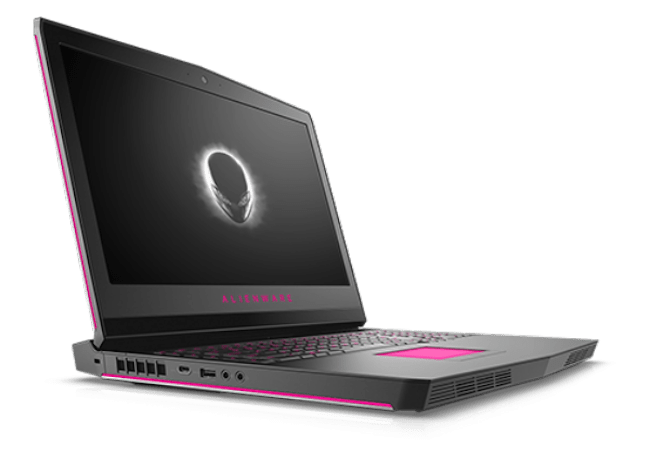 MSI is a popular brand, but many people don't look for it because of the price, that's why we have listed which comes at a decent price and provides ultimate VR gaming experience too. The Apache Pro features large 17.3-inch IPS display with the native resolution of 1920 x 1080 pixels. The laptop is designed in such a way that it reduces the glare and doesn't cut down the resolution.
The Apache Pro is powered by Intel Core i7-6700HQ clocked at 2.6GHz, which is sufficient to play VR games and it can be overclocked up to 3.5GHz too. The laptop is equipped with NVIDIA GTX 1060 GPU, which is one of the best and contains 6GB of GDDR5 VRAM, so that you can play high end games smoothly with better graphics. There are two variants that offer 12GB and 16GB RAM. The laptop also boasts a full-size SteelSeries keyboard with colour backlight.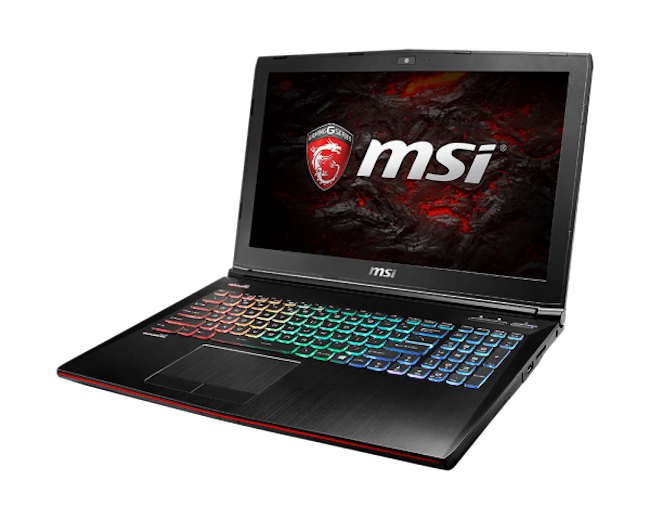 4. 
ASUS ROG G725VS OC Edition
This is another great option which lets you save a lot of money and at the same time experience immersive gaming and entertainment. The Asus laptop comes with NVIDIA GTX 1070 which doesn't generate power equalling to GTX 1080 but is sufficient to play latest games on VR smoothly.
The ASUS ROG G725VS is powered by an Intel Core i7-6820HK processor, which is fast and power efficient too. You can choose from 32GB or 64GB RAM and 256GB or 512GB solid-state drive. Asus also allows users to create a huge collection of games in 1TB hard drive.
The laptop Features The 17.3-inch display with 1080p resolution, which isn't extra-ordinary but provides clear and sharp visuals while playing VR games. One more interesting factor is the excellent cooling system which turns the heat down when you overclock the processor.

The Origin EON17-SLX is highly customizable and allows users to choose from various hardware while working through the build menu. Users can take the advantage of using one or two NVIDIA GTX 1080 GPUs with 8GB GDDR5 VRAM which is exceptional. Vive requires 4GB RAM and Rift requires 8GB so even using one of them is sufficient to run VR games effortlessly.
The laptop offers 17.3-inch display with 4K resolution so be ready to experience the amazing visuals and ultimate clarity while playing your favourite game. The Origin EON17-SLX features multi-colour backlit keyboard along with a full number pad in addition. The laptop case is also customizable and offers 8 unique colours and paint jobs. Infect, users can create their own design using the artwork given for the laptop.
The laptop offers Up to 64GB 2666MHz DDR4 Memory and is powered by 6th Generation Intel Processor.

If you are looking for a VR gaming laptop which isn't hard to carry anywhere, then MSI Stealth Pro is recommended for you. It is light weighted and boasts a low profile compare to other gaming laptops in the similar segment. The laptop features 15.6-inch display with a native resolution of 1920 x 1080 pixels which isn't too impressive but satisfactory to utilize VR. The laptop is equipped with GTX 1060 GPU that includes 6GB of GDDR5 VRAM and lets you work fine with Vive VR.
It also offers 16GB RAM and users can choose from either of 256GB or 512GB solid-state drive. You can expand the size of your library as much as you wish because it packs 1TB hard drive storage too. The laptop is powered by an Intel Core i7-6700HQ processor that provides base frequency of 2.6GHz and can be overclocked up to 3.5GHz which is more than enough for playing games in VR. It also features a full SteelSeries keyboard, including a beautiful full-colour backlight and a number pad.
It is another robust gaming laptop from Asus which comes at a very decent price and delivers excellent performance. The ROG GL502VS features 15.6 inch display with 1920 x 1080 pixel resolution and is powered by an Intel Core i7-6700HQ processor clocked at 2.6GHz, which is like the basic requirement to play games on VR.
It equips NVIDIA GTX 1070 GPU that includes 8GB of GDDR5 VRAM and allows users to play on either Vivo or Rift as per their choice.
The laptop offers 16GB RAM and huge storage capacity through 256GB solid-state drive along with 1TB hard-disk drive so create your massive collections of games and keep your important data without having the fear of running out of storage. The laptop is easy to carry and boasts a sleek design too.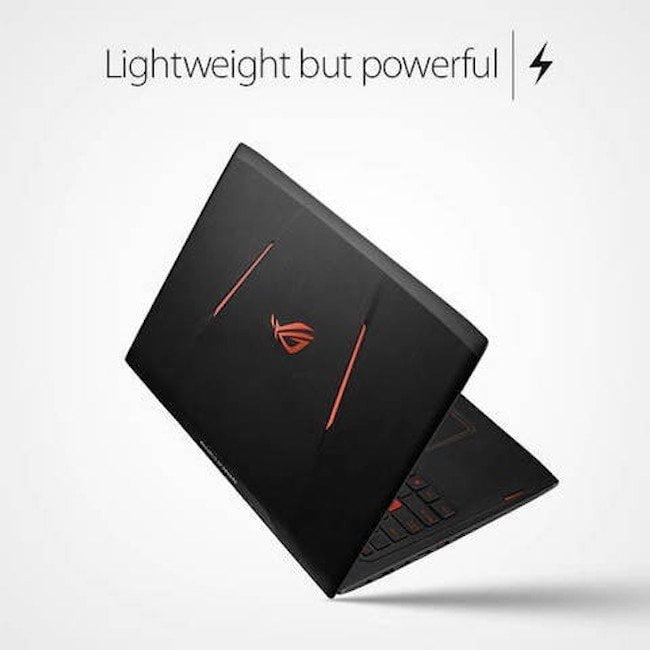 8. 
ASUS GX700VO
Asus has a wide range of gaming laptop and those gaming devices are well known for their performance as well, that's why we have mentioned another extra-ordinary gaming laptop which is surely one of the best for VR gaming. We are talking about the ASUS GX700VO which is the world's first liquid-cooled gaming laptop. However, the liquid-cooling unit is detached from the laptop and can be carried separately.
The laptop is also recommended for those who love overclocking. The laptop is powered by an Intel Core i7-6820HK processor clocked at 2.7GHz and using the liquid cooling it can be overclocked up to 3.6GHz. You can easily run your Vivo or Rift even if you don't overclock the device.
Another impressive component of the laptop is its advance GTX 980 card which includes 8GB of VRAM and is sufficient to play VR games. The laptop comes with 32GB of DDR4 RAM, which can be expanded up to 64GB, again, it is more than the requirement of 4GB or 8GB to play VR games in Vivo and Rift.
The laptop features large 17.3-inch 4K Ultra HD display with NVIDIA's G-Sync technology to reduce stuttering. The device provides ultimate display and let you feel the same kind of excitement when you play games simply on the laptop.
Hopefully the list of best VR gaming laptops we have provided will help you to choose the one that suits your needs best. Feel free to share your experience about the above mentioned VR laptops with us and do not hesitate to provide your valuable feedback.