Tracking cell phone location has come a long way. We are now almost forgetting the long journeys and waits in government agencies or hiring the best IT guy to help you in phone tracking.
Their services are still essential, so they have used the technology to advance to more accessible and typical ways. Now, all you need is an internet-enabled device to get a good app for cell phone location tracking purposes.
Engaging a search will, however, give you everything, including fraud apps. To avoid falling into the hands of the outlaws, learn how to track your phone or a targeted one using our top five apps.
Spyine Cell Phone Location Tracker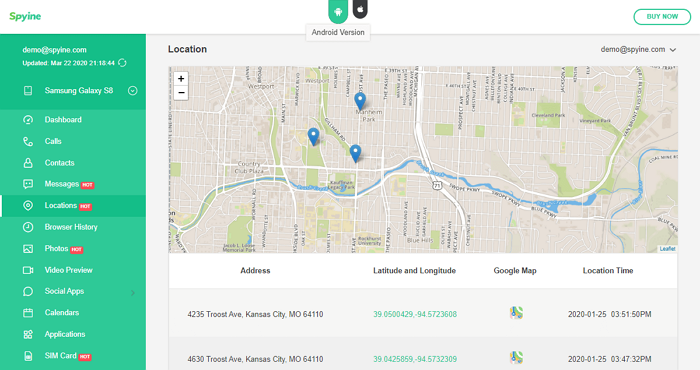 Now that the internet is available, things have become more manageable. That is why, using your phone, tablet, or computer, you can track a phone using easy steps. Spyine is one of the apps that enable you to do so.
That is why millions of people currently depend on it in 190+ countries. It's a tracking solution that you can use on Android and iOS devices, but the tracking happens online. It gets rid of all the complicated procedures, and that's why it's a darling to many.
How you set it up depends on the phone you want to track. For Android, a one-time installation of the Spyine app is necessary on the targeted phone. After that, you will be using your online account for the tracking record.
In iOS, it's pretty different but simpler. Spyine allows you to use the iCloud ID on the main website after creating an account. That tells you there is no installation or jailbreaking involved.
On the Android side, rooting will also not be part of the process. The simplicity in the setup is enabled by the cutting-edge technologies present in the application. As you use it, Spyine will never be visible.
It uses the stealth mode to cover its tracks by hiding the app's icon. Therefore, your phone or the targeted one will be the same all through. Once the setup is complete, the results will be in your online account.
Spyine uses a user-friendly dashboard to show you where the phone is in real-time. It uses the location specification to show you where the phone is currently situated. You will also view where else the phone was.
Coordinates, addresses, and timestamps back up the information. More tracking solutions will also involve Geofencing alerts. This is the specification that tells you if the phone is in restricted zones or not.
Spyine, through the Geofencing feature, will help you set up the perimeters and an email to notify you when the line is crossed. That's how valuable Spyine can be in this age. It also has more features that will enable you to track other phone activities.
You, therefore, get it as a whole package. Protection from third-party access is essential in this age. That is why Spyine doesn't store the tracking information and any other records fetched from the targeted phone.
Instead, it syncs with the phone when you get into your account.
Spyic Cell Phone Location Tracker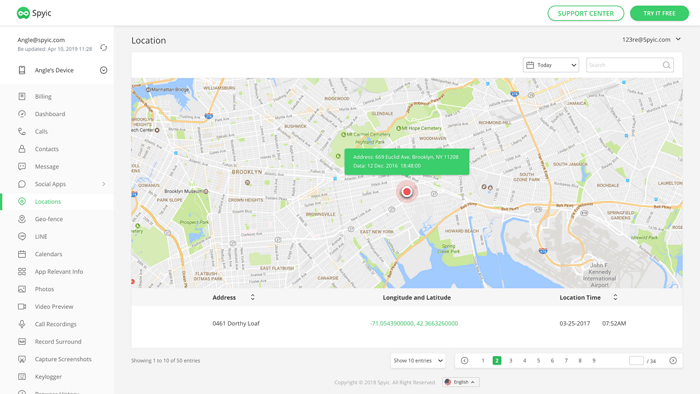 Another great application that will help you track phones seamlessly is Spyic. It has also gained worldwide recognition due to how you set up and use it. It allows you to depend on your online account after its acquisition.
You can also use it on Android or iOS without any rooting or jailbreaking techniques. In your online account, you get the location option to show the real-time phone's position and other visited places.
It also has Geofencing to alert you when the phone goes or leaves the restricted zones. Due to the presence of stealth mode, Spyic is also not visible. Your target will not see it coming, and that's the beauty of it.
You can learn more about how it works via its main website.
Minspy Cell Phone Location Tracker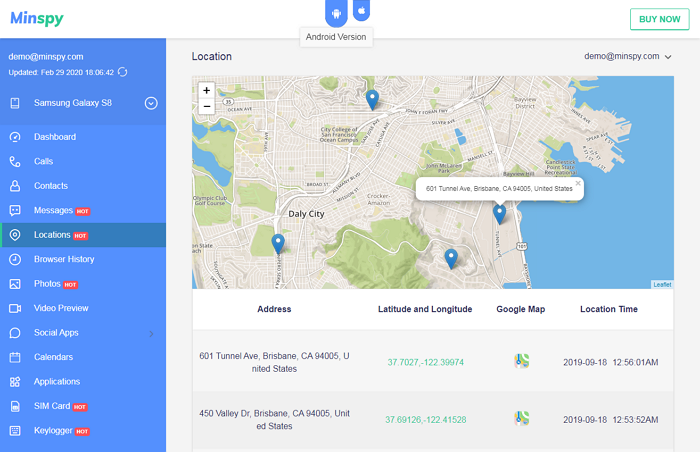 Minspy is a cell phone tracker that works on Android 4.0 and above and iOS 7.0 or later. It's, therefore, a helpful tool if you want to track a wide variety of phones in both operating systems.
It also uses an online dashboard to display the tracking results. It's user-friendly and also compatible with all browsers. The setup takes five minutes at most since there are no complications.
Androids require a one-time installation, while iOS devices can be tracked using the Apple ID. Minspy does not drain the phone's battery when using it. In Android, it occupies less than 2MB of memory space, while for iOS, it will be entirely dependent on the iCloud.
Track Cell Phone Location with Spyzie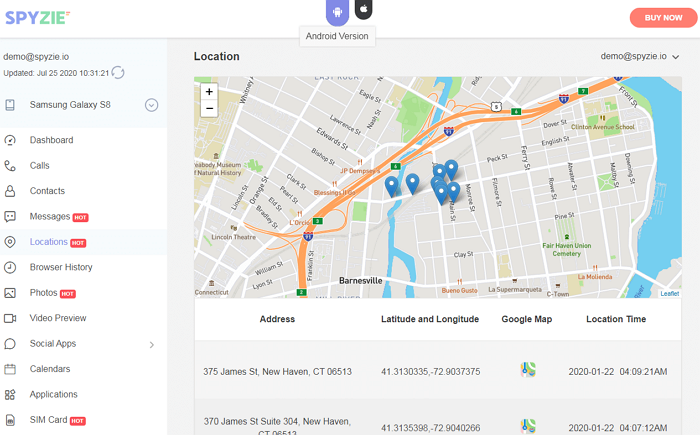 Spyzie has been in the tracking niche for a long time. People have used it for other purposes too hence the fame. It will help in tracking a phone online after a one-time setup on the targeted phone.
There will be no rooting or jailbreaking before the acquiring process. It's, therefore, simple to use and maintain. There is a stealth mode to cover the tracks and an online web portal to display the results for you.
The location tracker will reveal where the phone is and all the past locations too. If you want to engage some restrictions, that is also possible via the Geofencing alert. Spyzie will also help you track the SIM card location of the phone.
Track Cell Phone Location with Cocospy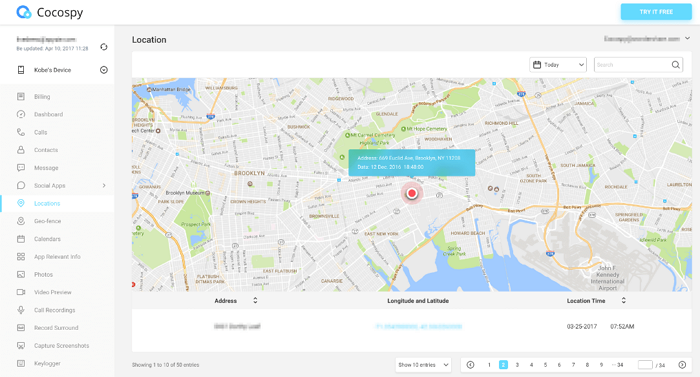 If you want another veteran app that has proved to be helpful over the years, try Cocospy. It has stayed in the limelight, too, thanks to the millions of downloads across the world.
Some have even read about it on major news outlets such as CNET and Business Insider. Its use involves a one-time installation on the target phone for the Androids. For iOS, you can perform everything online if you have the iCloud ID.
Once the setup is complete, you can enjoy the presence of the information online via your account. Cocospy also does not store the retrieved data. It uses a syncing policy to get you the data in real-time when you access your account.
Conclusion
Now, nothing can deter you from tracking a cell phone location with the five examples above. You can try Spyine to see how it works and join the millions who depend on it every day. The other options are safe, too, and that is why we are featuring them here.
In all, you will never depend on the target phone once the information avails in your online account.