After I got my Lumia 920, Internet Sharing was the first thing I wanted to check and to my disappointment it never worked. I was able to Turn it on and connect my devices with it but Internet wasn't getting shared for some odd reasons.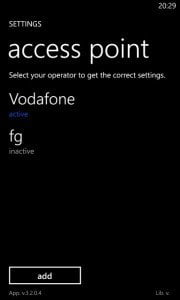 At the Nokia conversation thread, one of the guys suggested to update the Nokia's Access Point settings. I did and it still did not work for me. To my luck, at another Nokia Forums few guys had the same problem. They did every thing right from updating to editing the APN etc. Nothing worked for them either.
Access Point Activation Trick
Fooling around the with Access Point, I found that the current settings was not editable for me. I wasn't able to deactivate it either because it was the only settings that was available.
Randomly, I just created another VPN setting with a name and skipped all warning it gave me. Now I had two and I switched to the new VPN. You need to long press and select activate. This obviously deactivated my Vodafone VPN which was automatically created when I inserted the SIM.
Next I reactivated the Vodafone VPN again and connected to my Nexus 7 and to my surprise the Internet Sharing Started WORKING!!! I was like OMG so all it need was a restart kind of thing which could have set few things right.
So in case your Internet Sharing is not working, create a dummy and switch between the VPN. I hope this will help some people out there because it's not a global solution or an official solution but it worked for me. Good Luck!!