There are a lot of instances where we encounter certain troubles while using our PCs. Although most of them are pretty common issues that all of us are well aware of and can fix ourselves, some issues will be hard to deal with. One such issue is the issue of the USB mouse not working in Windows. In this article, we'll be taking a look at some ways that we can use to fix the issue in Windows 11/10
Reasons Behind USB Mouse Not Working In Windows 11/10
There can be more than one reason that can cause a USB mouse to not work in Windows. In this section, we'll be going over the most common reasons before moving on to the ways to fix the issue.
The USB cable is damaged: There are chances that a system cannot detect a connected USB mouse because the cable itself is damaged.
The USB port is damaged: You should always check if your computer's USB ports are damaged instead. You can check it by plugging the USB cable of the USB mouse into a different USB port.
Corrupt or Outdated Mouse Drivers: Keeping mouse and keyboard drivers up to date is very important. It is possible that one may be experiencing issues while using a USB mouse in Windows if the drivers aren't up to date.
Hardware Issue: If the USB cable of the mouse is intact, and the mouse drivers are up to date as well, but still the USB mouse is not working, the mouse itself is likely damaged.
However, before concluding that the USB mouse is damaged, we suggest you try some ways that might be able to fix the issue depending on the reason for what caused it. Let's take a look at some ways using which we can fix the mouse not responding problem.
Fix USB Mouse Not Working In Windows 11/10
There can be many software-related issues to cause USB mouse to not work in Windows. Below given are some of the methods you can apply to fix this issue:
Restart Your Computer
Enable USB Mouse
Updating/reinstalling the mouse drivers
Set to show the mouse pointer
Manually installing mouse drivers from official vendors
Let's understand these methods in more detail.
1. Restart Your Computer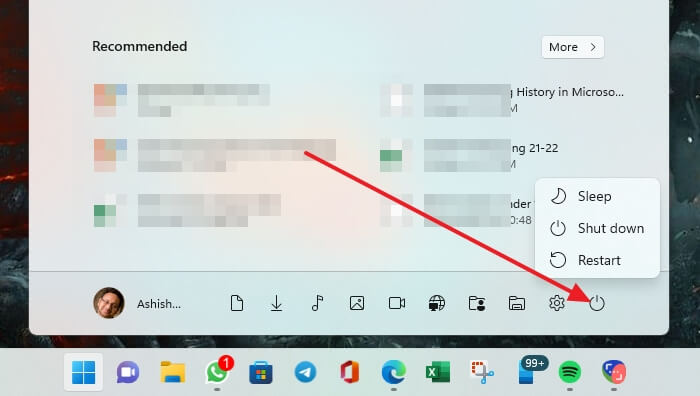 Restart can fix many problems, and if you have been keeping the computer in sleep mode or hibernation, a simple restart may fix it. There are chances that some corrupted files are stopping the USB mouse from working smoothly. Existing processes, faulty tasks, etc., can lead to this issue, and hence, a simple restart is all you need.
Go to the Start Menu
In the bottom left corner, you can see a power button. Click on it
Select Restart to restart your computer.
Restarting the OS may kill any running task that may have caused the system to behave weirdly, leading to the USB mouse not working in Windows 10/11. Make sure to save your work before restarting the PC.
2. Enable USB Mouse
A connected USB mouse does not work if it is disabled in the device manager of the system. It would be best if you toggled it to on via Device Manager. Here are the steps you need to follow to do that:
Launch Run by pressing the Windows key + R
Type devmgmt.msc and press Enter. It will launch the Device Manager of your system.
If you're using a laptop, use the trackpad to navigate to Mice and other pointing devices. Ensure that you're navigating under the correct device. You can also temporarily use another mouse and use that.
If you can't use the trackpad, press Tab, and then press the down arrow key to navigate to Mice and other devices
Open the drop-down menu by pressing the Alt + right arrow key for the Mice and other pointing devices. You should see an option by the name HID-compliant mouse.
Press Shift + F10 to view the list of possible actions. Press Tab and down arrow key to navigate to the second option, and press Enter to enable the mouse.
It should enable the USB mouse on your computer. You can close the Device Manager after testing the USB mouse.
3. Updating/Reinstalling the Mouse Drivers
As mentioned earlier, outdated mouse drivers can also lead to the issue of USB mouse not working in Windows 11/10. Keeping the drivers of devices we regularly use with our computers up to date is essential. The latest and updated versions of Windows now automatically detect outdated drivers on a device and ask you to update them. Here are the steps you need to follow to update your mouse drivers:
Open Windows Settings using Win + I
Go to Windows Update from the left pane and select Advanced options.
Under the advance options, scroll down to find optional updates.
Here you will see a list of all the available driver updates.
If there is a driver update for the mouse, install it, and restart your PC.
You can also try to reinstall your mouse drivers from the Device Manager. However, it will only reinstall the current drivers and won't do much of a change.
4. Set To Show Mouse Pointer
While this might seem like not much of a solution, sometimes, our eyes are just too lost. Unable to find the cursor on the screen, we might think that the USB mouse is not working. You can use the Ctrl key to show the mouse pointer's location in your Windows 11/10 systems. Here are the steps you can follow to do that:
Go to Windows Settings by pressing the Windows+I key.
In the left pane, search Mouse settings in the search bar.
Under mouse settings, scroll down to select Additional mouse settings. A new window will open.
In the additional mouse settings, select Pointer options and then enable Show location of the pointer when I press the CTRL key option.
5. Manually installing mouse drivers from official vendors
Certain mouse designing brands also roll out driver updates on their official websites. Logitech, RedGear, Razer, and more companies like these are known for designing popular mice used by people all across the globe.
They also act as official vendors for specific drivers for their mice that differ based on their system. You can try manually installing the latest compatible driver for your mouse and system from the official vendor.
Should I Use A USB Mouse With My Laptop?
Using a USB mouse with a laptop is a matter of choice. It does not harm your laptop in any way. If you are a gamer or required to use the mouse more during your work, using the trackpad will not be as convenient as using a mouse. Some OEMs design special Mouse that can help you speed up your work. They offer to customize each button and change it as per your need.
Should I Use A Wired Mouse Or A Wireless Mouse?
Both types of mouse work typically the same. However, a wireless mouse offers more comfort and makes your setup a little neater. If you need to switch between devices, I would suggest using a Wireless mouse that allows an easy switch. Since a Wireless mouse needs more budget, you can select a wired mouse with equally good functionality.
In this article, we learned how to fix the issue of a USB mouse not working in Windows 10/11. Enabling the USB mouse from optional updates updating or reinstalling mouse drivers are the most common fixes used by everyone, and it should help you too. We hope that this article turned out to be useful for you.