Starting with Windows Phone 8, a Backup and Restore feature is available which can Sync SMS, Call History, IE Favourites, Save Photos to SkyDrive and backup your phone settings to cloud.
Now even when you switch to different Windows Phone or even change your number but use the same Microsoft Account on that phone, the data can retrieved back to your phone in few minutes. Find the video demo at the end.
What does Windows Phone Backup to the cloud ?
Go to Settings > Backup and here you will have three sub settings. One if for app list + settings, text messages and photos.
App List + Settings :
App List : Backup can remember the list of apps you had installed on your phone from the day you start using the Marketplace. However, it will not backup any of the App data like password, game states etc.
Settings : These are phone settings which are stored on the cloud. This includes the following things :
Theme Colour
Email, Facebook and Twitter Accounts you have set up on your phone. Password is never saved.
Internet Explorer Favourites
Call history including time, date and state.
Settings from your Photo Library, Messaging, Location, Lock Screen, speech etc.
Text messages / MMS Backup
Text messages and MMS including their number and read state are backed up to the cloud. However if, you delete them from your phone and a backup gets initiated after that, there is no way to restore it.
Apart from Text message backup, you can do Facebook Chat Backup also. Go to Settings > Messaging and turn on the option which says Chat Backup.
Photo Backup to Skydrive : You can choose to back up your photos even if it uses Mobile Data. Since photos are most important for many of us, I will suggest you to keep it turned on.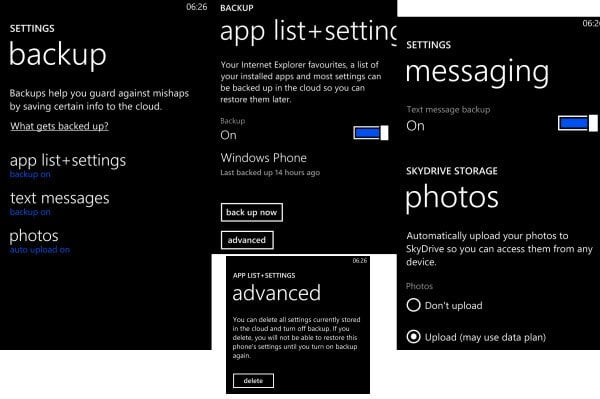 How to Restore Windows Phone 8
Windows Phone can identify you by means of the account you had used in the previous phone. So make sure the account is same and you are connected to your mobile network. This will only work when you switch or reset your phone.
Once you sign in with the same account, the magic will begin. Instantly Windows Phone will give you two option, First is to restore from previous backup and second is to start fresh.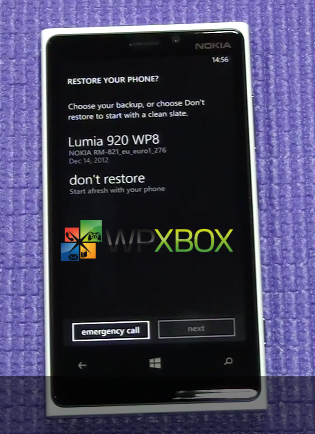 If you chose to restore, the next screen will update you about the how the restore will take place. Here are the details :
We are preparing to restore Lumia 920 WP8

First we will restore your settings and accounts. This might take few moments and it will use your mobile data.

Then, while we install your apps and games, you can starts using your phone and rearranging your Tiles. During this time you can sign in to WIFI if you would like to avoid further data charges.
That said, be happy that even your apps will be reinstalled. So make sure to connect with WIFI Network, so the download is smooth else go to the marketplace and pause all of them one by one so your mobile data is not used.
Backup Restore Video
How to manually backup your Windows Phone :
Go to Settings then Backup and then select App List + Settings. Here, you can see when was the windows phone backed up. Hit Backup now for instantly backing up your phone. Since a lot of data may get consumed, it is advised to connect to WIFI network.
How often Backup Takes Places :
Windows Phone takes automatic backup at least once a day if you are connected to WIFI Network long enough. In case you do not connect to a WIFI network for a month, it will use the mobile data to backup your phone.
How to Delete a Backup ?
If you ever wished to start from fresh, you should first delete your old backup. This can be done by going to Settings > Backup > App List + Settings > Advanced and choose opt out of backup.
This feature is not available to Windows Phone 7.5 users and they need to follow up this method.