If you have seen tons of game play videos on YouTube and has always wondered how to get your Xbox 360 Game Play recorded and show it to the world, then today I am sharing how it should be done. Remember this is not a top-secret stuff but if you are new to this, you will love knowing about it.
What do you need :
Hauppauge HD PVR : This is a video recorder which means it can take any HD input and dump it to your PC in MP4 format. Advantage of using this :
Since it records in MP4 format, you don't have to worry about conversion.
It does not need a high-end or powerful PC to work. Since everything is in the box, all it needs is pc enough to store that video.
It can even record TV Programs if you want to use it for other purpose.
Supports HD, 720 P, AVG and Optical Audio
Supports NTSC,PAL and SECAM which means it can be used in most of the countries.
It needs power to run (Not USB powered), has a 10 FT Cable to connect to your TV and USB out to connect to PC. It also comes with a software/ driver which will show you live preview of what is getting recorded and options to control it.
Rocketfish™ – HD Component Video/Stereo Audio Gaming Cable for Xbox 360 :   Even though Xbox has an official HD Component Cable,  this is recommended over it because it has Gold Plating which increase signal power which in turn helps in getting better quality, almost zero delay and is cheaper.
Unboxing Video : Thanks to one of my friend, I have both of this and I do record videos without any issues. Here is the unbox video with sample Xbox video which I have recorded using these devices.
You can very well use the composite cables also without any issue if your TV does not support it. But if your TV does support it, a full HD over component is recommended.
How to set it up :
Connecting HD PVR with your PC
First install the software that comes in the CD along with the HD PVR package.
Next power up the HD PVR and connect the USB cable into your PC.
Select Record Movie on the software and it should display the device in the list.
You will get to see details like Resolution, Bit rate etc and in case the software throws an error saying that the device is busy, just unplug and plugin it back. You might need to turn off and turn on once.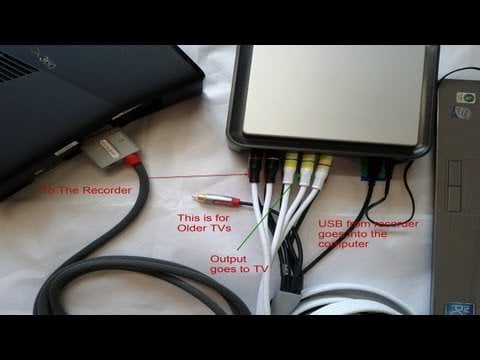 Connecting the devices :
It pretty simple, The output of your Xbox gets into HD PVR and the output of HD PVR gets into TV or Monitor. A USB out from HD PVR gets into your PC where you use the software to record the video into a folder of your choice.
Detailed Video by Bucky :
All thanks & credit goes to this guy. He has well demonstrated how the video should be recorded and in-fact its because of him I am able to record all videos.
Summary :
This solution does not come cheap as it will cost you 200$ for HD PVR and  32$ for Component cable but the reason I will suggest you to choose over a capture card as it not only needs a powerful PC for video processing but also the quality wont come out that great.
Since the HD PVR is packed with all hardware power required, it makes it easy to record and convert into MP4 and send it to your PC. Plus if you are spending this much, you make sure that you have the real need professional or hobbyist.