If you are looking for a casual puzzle solving game which involves a bit of construction and bit of physics but nothing hard-core, Tiki Towers for Windows Phone is an excellent option which even your kids can play.
What is the Game About ?
The ultimate goal of the game is help some monkeys get some bananas which is hanging in the air and they also need to reach the  other end. So to help the monkeys you need to create a bridge or towers or some sort of construction using given set of bamboos.
How to Play this game ?
Starting Point : You will have some basic starting point from where you can start. Basically you will need to build your structure upon.  Use your finger to start making one, you will get a preview of how it will look.
Structure :  It should be such that  :
It can hold the weight of all the monkeys that pass through.
Monkeys should be able to reach the bananas as they swing across. So you need to decide how high you can go.
Since you have limited number of Bamboos, make sure to use them wisely.
While making it, use a bit of physics logic so it is stable. Use sidewall or the base to get some good support.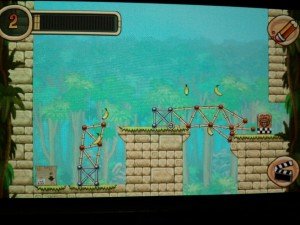 Mode : There are two modes, Build and Eraser. Use the eraser mode if you want to remove all or most of the Bamboos.
Test : When you are ready, tap the box or the Cinematic Icon to preview how strong your construction is. If every monkey grabs a banana and passes to other point, you complete your level.
My Gaming Experience :
The most crucial thing is how well you can create your structure and then change it when required.  I did not miss that anywhere when drawing it. All you need is to start from one point and keep dragging in right direction to see how the structure is taking shape, if you are happy release it. Worked Nicely there.
The only problem I faced was when removing the bamboo in the Build Mode. If you tap on the existing bamboo, it is removed  and tapping can also add a bamboo. That creates a bit of confusion so if you want to remove, switch to Erase Mode.
Screenshots :
[minigallery id="783″ style="box border box_white"]
Download from Market Place