If you are a Windows Phone user I am sure you already know about the "Other Storage" issue and are haunted by it. This storage is a mysterious stuff which is being fixed by the Microsoft team. However, Nokia went ahead on this and released an update via Extras + Info update and introduced "Storage Cleaner". This setting lets you get rid of a part of "Other Storage". As reported by many, this was fist seen in Lumia 620.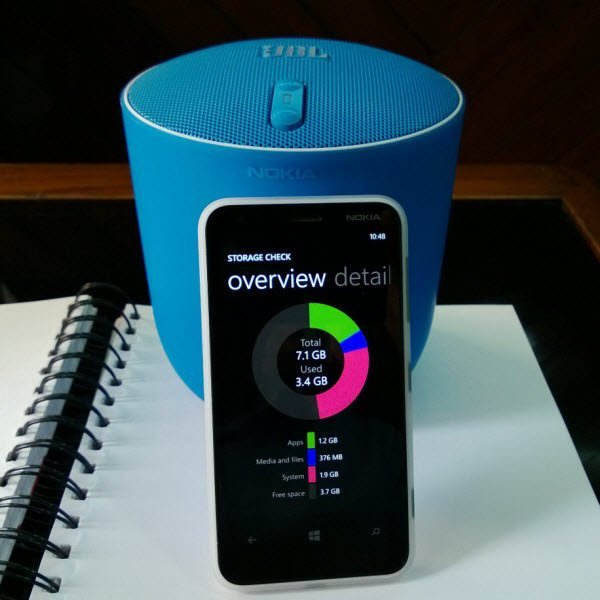 Video Demo of Storage Check
What Storage Check has to offer:
Breaks the total storage as Occupied by Apps, Media & Files, System and Free Space.
Details section has three parts.

Apps: It lists down all the apps along with their data. This means space occupied by the App itself and files which are created by them.

Temporary Files: This will display total space occupied by files which are supposed to get deleted automatically. This is mostly taken care by the OS but if you want you can get rid of them manually. Below is a screenshot where I successfully removed 300 mb of data which was accumulated after couple of game installs.

List of other major things which includes — Photos, Music + Videos, Office Documents, Email + Contacts, Maps, Ringtones, System & Other.
The last section gives you a clear idea on what is majorly occupying your space. This helps you better understand what "OTHER Storage" does not include.
How does it work?
This setting is targeted to clean up any unnecessary files
Which are left by Apps that do not proactively clean up their files either while installation or when uninstalled.
Anything which OS has left. It's hard to believe but many complained that after portico update, Other Storage had a massive increase in size. This reminds me of Windows Updates or Upgrades which needed manual clean up.
So when you hit on clear temporary files, its cleaning up those kind of files which were accidentally or was left out of negligence.
How to install Storage Cleaner:
Since this is a system update, unless it shows up on your phone, you cannot get it. So best is to check for the update of Extra + Info app on your phone. If you see it, install it.
Now chances are that you might not get it even after this. Mostly its been sighted on Lumia 620, even for me.
Till then, I will suggest you to try the Storage Cleaner App which helps you get some extra space. Read more about it here.