Looks like this year is going to be bad for Microsoft as we see more, and more big companies dumping Windows for Apple's Macbook.  IBM was the first company which took this step, and many followed the lead. Looking at the reports from IBM, on how productive they had become without Windows, GE offered its 330,000 employees an option to switch to Mac, and now Wallmart took a big step and plans to buy  One Hundred Thousand Mac.
This is the report of IBM about Macbook Usage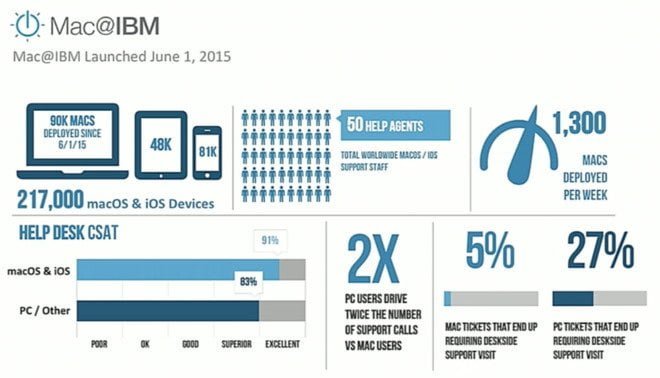 I would agree with this report especially when it comes to a system or support where you don't really need to run a lot of software and do high-end stuff. Mac is pretty stable when it comes to a very regular usage or max of video editing. It fits the scenario where you need to use limited number of software. I use Mac on daily basis, and for my limited use, its pretty sturdy.
Coming back to the Walmart, after going through the Mac Choice program, the company sees that there is a significant drop in the cost. Walmart's Technical Expert Miles Leacy across a similar set of users, Windows PCs generate about 60 percent of all support issues compared to 40 percent related to Macs. This was observed for over 7000 Mac users when using Jamf Pro software and Apple's Device Enrollment Program.
This is definitely not good for Microsoft as the concentration under Satya Nadella has moved towards business. While Azure is bringing the majority of the profit for Microsoft, tides can turn. If things go like they are right now, I won't be surprised if Microsoft will completely become a Software only company that will support a number of platforms. Microsoft is already following this strategy for their services.
There Walmart outlined its Mac choice program and noted that it found a significant drop in support costs among its current installed base of 7,000 Mac users, with the devices being managed using Jamf Pro software and Apple's Device Enrollment Program.
Source: AppleInsider