WhatsApp for Windows Phone had received a major update last month with new features added. Now WPCentral is reporting that WhatsApp for Windows Phone has got voice messages. We are really not sure if this was added in the last update or is a new feature in WhatsApp for Windows Phone 8. You can see a microphone icon next to the messages where you can record your voice messages and sent it across your contacts.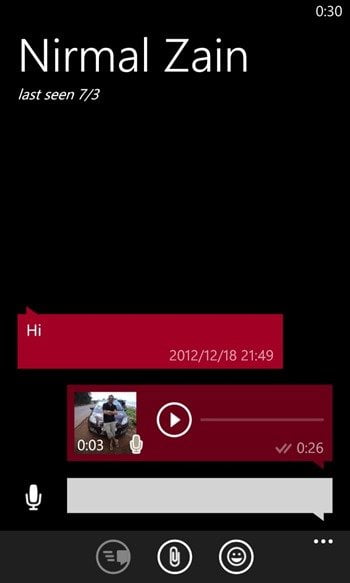 You need to press and hold the microphone icon to record the messages and once you are done with the recording the messages are sent to the contact automatically. If you want to cancel the message or recording, just slide from left to right. The update to WhatsApp in July does mention about the ability to have voice messages and we are not sure if this is a new feature or already existing since July.
WPCentral also reports that they were able to see this option only in Lumia 1020 and not in Lumia 925. We checked for voice message on Lumia 920 and it was available.
Whether this is a new or old feature, it is welcome addition to Windows Phone. Download the app from the Windows Phone Store.