There is an app for every kind of user and while we least expected for something on Wild Life, there is an app for that too. Wildlife Tracker app for Windows Phone lets you track animal sightings across reserves when somebody posts about it and let you do the same when you are around the location and see a wild animal.
While restricted only to Kruger National Park right now the app lets you do the following:
Sightings:  When and as they happen. It can also tell you if somebody else confirms for that.
Live Updates: If you enable toast notification, you get notified about it instantly. If you just want Live Tile, you can do that too.
Drive to Sightings: You can use Here Maps or any drive based map app to get turn by turn direction to the sighting.
Works Offline: Once logged into the app, everything is available offline. In case you sighted an animal while you were offline, you will be able to make an entry about it and it will be posted when you get back online. This is an incredible feature.
Report Violation: It is possible to notify a violation or if you see an animal in danger like trapped to one rangers.
Park and Animals: The app has an offline list of park details and animals which can be a great interest not only to you but also to your kids to explain them about each of them.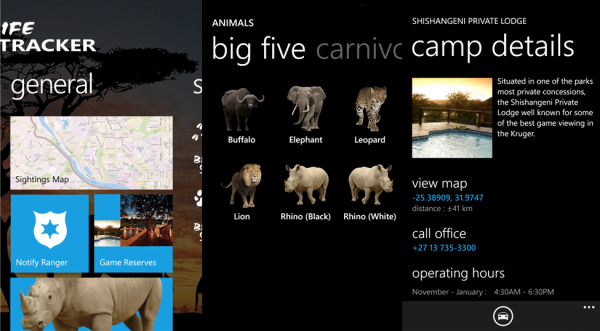 While the app works great, two of the above features i.e. Live Updates and Drive to are in-app purchases. So unless you are pretty serious about it and are going to one of those national park, you might want to skip.
Also, I am curious on how the app works when it comes to reporting a violation and we will be in touch with the app makers to get some more details. Till then give it a try and if nothing else, educate your kids about the wild life and how important they are to us.