Microsoft recently released Windows 10 20H2, aka October 2020 Feature update for everyone. If you plan to upgrade, then you can download the ISO file, or you can use the Windows 10 Update assistant tool to kickstart the update. While the best way is to check for Windows 10 update through Settings > Update & Security> Check for update, here is how you can Windows 10 v 20H2 October 2020 Update via ISO and Update Assistant Tool
Download Windows 10 v 20H2 October 2020 Update via ISO and Update Assistant Tool
You can upgrade to the latest version of Windows either by using an ISO or update assistant tool. If you download an ISO, you will have to create bootable USB media. In the case of the Assistant tool, it will do everything on its own.
If you are not sure which version of Windows 10 you are currently running, then, in the search box on the taskbar, type winver, select winver from the list of results.
It will display the version of Windows, which you can compare with the listed on the official website.
Download Windows 10 ISO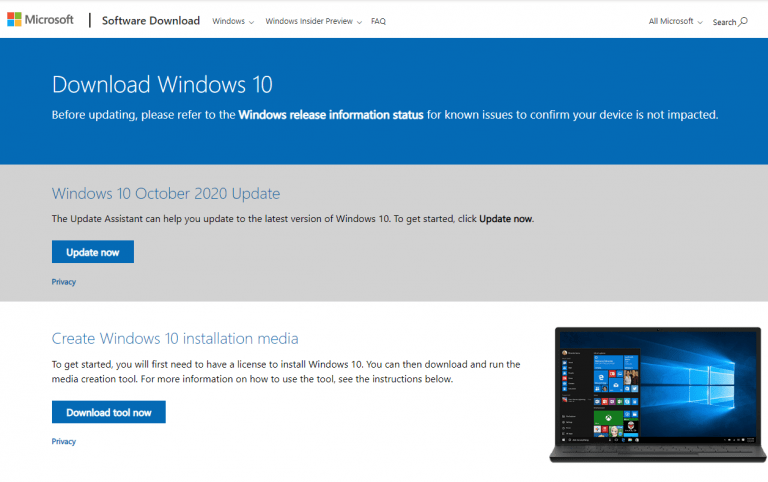 You can go directly to the Windows website to download the ISO or generate a link to the ISO files so you can download it later. It comes in handy when the automatic upgrade fails, and the only way out is to use an ISO file. We suggest you better have a download manager if you create links.
Windows 10 Update Assistant Tool
The assistant will download and install feature updates on your device. As of now, the version is 20H2 which offers new features and stability over the previous version of Windows. Once you run it, you'll get these updates automatically after you download the Update Assistant.
That said, when upgrading, make sure to take a backup of all the files. While Windows does create a backup of all the files in the Windows OLD folder, a manual backup is always the safest backup.