Quiet Hours or Do Not Disturb modes are one of the essential features of any operating system. Just like how we do not want our phones to ring and send notifications, those running with their laptops for meetings, etc. would want things to be quiet on their computer as well. In this post, We will show to use Quiet Hours or Focus Assist to reduce notification in Windows 10 when it is necessary. Remember turning off notifications sound is different from keeping this from off the screen.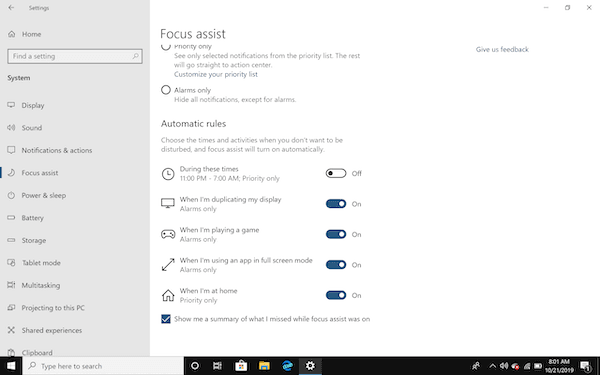 How to keep down notifications in Windows 10 using Focus Assist or Quiet Hours
Even though we know it, at times, we forget. A notification appearing on top of you presentation or showing an excel spreadsheet is not a good thing. Microsoft has included some extra features to make it smarter.  Apart from offer Off, Priority Only, and Alarms only option, you now have Automatic Rules for Focus Assist. The rules include
Set a time duration where you will get notified about Priority only apps
Quiet Hours will automatically turn on when you are duplicating your display. Never get interrupted during presentations again!
Quiet Hours will turn on automatically when you are playing a full-screen exclusive DirectX game.
If you're using Cortana, you can also have Quiet Hours turn on while you're at home.
How to customize the Priority List?
You should customize your priority list so that your important people and apps always breakthrough when Quiet Hours are on. People pinned to your taskbar with always breakthrough! Under Priority only radio button, there is a link to Customize Priority list. Click to open it. You can configure
Calls, text, and reminders
People
Apps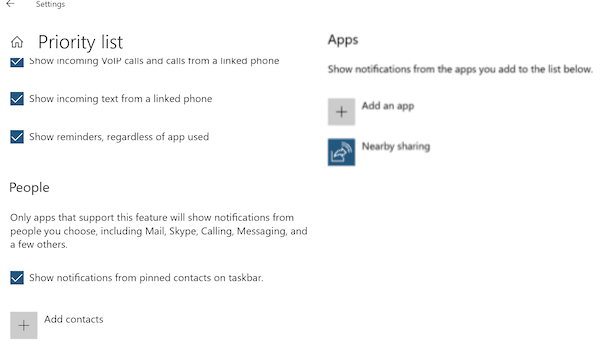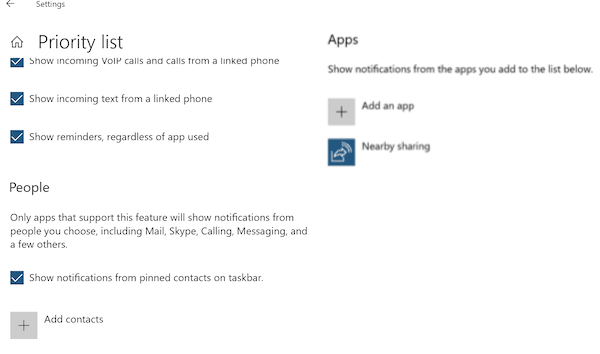 Related: How to reduce Windows 10 Notifications
Once you disable the quiet hours or when Focus Assist timing ends, you will be able to see a summary of what you missed. It will make sure that you dont end up finding all of them together, and spending more time.
You can always set the schedule that works for you so that Quiet Hours are still on when you want them. You need to go to Settings > System > Focus assists in configuring your schedule.
We hope the steps were easy to follow and help you to keep down notifications in Windows 10 using Focus Assist or Quiet Hours.