There are many occasions where we need to show someone how an application works or the installation steps or to show how to get an error fixed on our Windows machines. But explaining all the steps and processes through emails or text can be a difficult task. That's why a lot of users prefers recording screen and sent the video to the other user. So the question is, how to record steps on your screen in Windows 11/10?
If you are looking for the answer to the same question, then this post will guide you on how to record steps on your screen.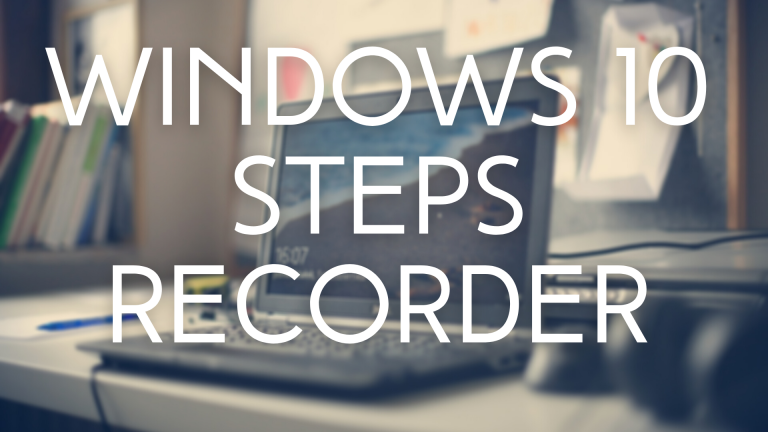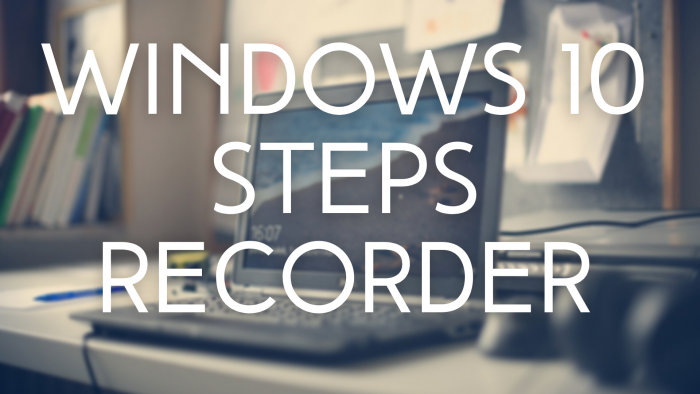 Why does someone need to record the screen?
Screen recording is a handy feature. It lets you create a recording of demos or create instructional videos of using software or fixing an error. Or you can use it for showing anything on your screen.
Even you can use the screen recording feature to capture zoom video or skype video calls, record IP camera footage, and many more.
Record Steps on your Screen using Windows 11/10 Steps Recorder
Steps Recorder is a built-in tool offered by Windows 11/10. This feature is handy when it comes to troubleshooting.
However, unlike a screen recording tool, it instead captures a screenshot of everywhere you click and creates an HTML Document. Also, it lets you add a comment for every step. In short, it converts your recording into an explanatory HTML document.
While it is great for recording steps, it doesn't really record anything that you enter. Instead, you have to add comments for that. Also, some apps might not get captured by the Step recorder.
To record steps on your screen using Steps Recorder, follow these steps:
Click on the Windows search bar and search for Steps Recorder.
Tap on the Start Record button to start recording your screen.
Use the add comment feature after a step to add comments.
Once the recording is completed, click on the Stop Record button.
Finally, click on the Save button to export a zip file containing an HTML document of your recording.
How to Record Steps on your Screen in the form of a video?
Recording steps using the Steps Recorder might not always be good as it only creates an HTML document and not a video file. Luckily, there are many free applications or software available on the internet that lets you record steps on your screen. Here are two software we will recommend:
Screenapp.io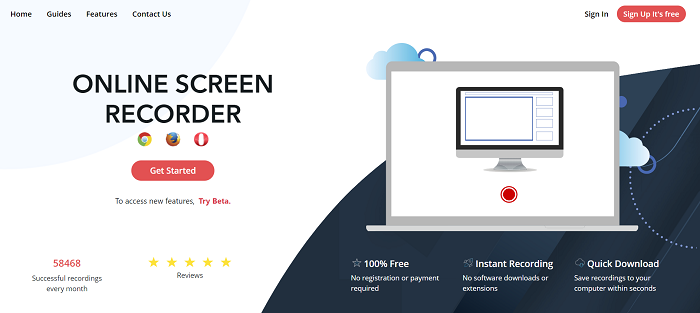 Screenapp.io is an online screen recording tool. It is absolutely free to use and requires no software installations. You can easily record your screen using your browser and save recordings to your computer within seconds.
The best part is that it offers you a custom recording feature. Such as you can record your entire screen, or you can record an application window or record a browser tab. Plus, you can edit your video before downloading it.
To use Screenapp.io, do follow these steps:
At first, go to screenapp.io.
Next, click on the Get Started button.
Next, you have to select the audio input setting between Microphone audio, browser audio, or no audio.
Then click on Share your screen.
After that, choose between Your Entire Screen, Application Windows or Browser Tab.
Then click on the Start Recording button to start capturing your screen.
Once the recording is completed, stop the capture and download the video.
You can also use Record Cast as an alternative to this.
ShareX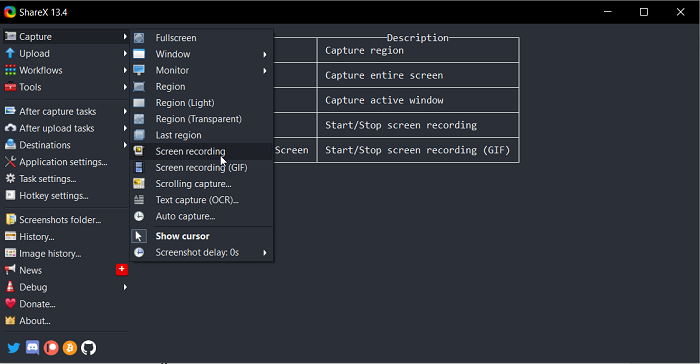 ShareX is an open-source screen recording tool that can be downloaded free of cost. The best part of it is that it comes with tons of capture methods.
Like you can capture full screen, active windows, active monitor, scrolling capture, text capture(OCR), and so on.
To get started with ShareX, follow the below steps:
At first, download ShareX from its official website.
After downloading the setup file, install it by following all the screen instructions.
Once installed, launch the software and click on Capture from the side menu.
Now you will get a bunch of options such as Fullscreen, Window, Monitor. From here, select Screen Recording.
Now you will need to select the screen area that you wish to record. You can select your whole screen or an application window.
Once the recording is completed, click on the stop button to stop it. Or you can press Shift + Print Screen to stop the recording.
Then right-click on the recording and go to Open > Folder to find the recording.
So those were all the tools that you can use to record steps on your screen. Now go ahead and check these tools out and see which one is working for you. Also, I hope this post has helped you to record steps on your screen.