I got a request on our YouTube Channel asking for a video that can explain on how to share songs and videos from Windows Phone. Though this looks like a very simple task, problem is that the absence of a dedicated File explorer in Windows Phone results in different approach for media sharing. Windows Phone lists these files in their apps i.e. Music + Video, Photos, PDF, etc.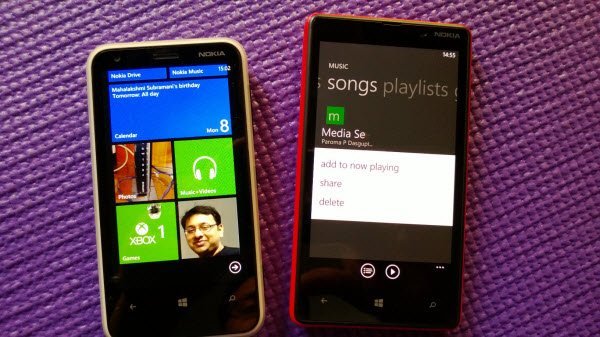 So to share Music or Video follow the steps as below:
First turn on Bluetooth and NFC on Windows Phone. The OS acts dumb by not listing Bluetooth and NFC when you choose sharing if it is not turned on. Also make sure to connect with the Bluetooth device prior to sharing files. This will speed up sharing.
Now Launch Music + Videos App.
Select Music or Video depending on what you plan to share.
This will list the respective files.
If you are sharing Music, Switch to Songs View. Here you will see individual music files listed.
Long press any of them and choose SHARE.
Next you will have option to choose Bluetooth or NFC.
The same goes for Video files.
Demo Video:
That Said, Bluetooth file sharing in Windows Phone is still incomplete. Not only does it suffers from the drawback of missing Received and Send Section, it also suffers from standard difference when it comes to different devices. I have seen file transfer failing over NFC and Bluetooth a couple of times.
Windows Phone 7.8 users are lucky to have Bluetooth Share app from Nokia. This app has dedicated notification system and can be used as one stop app to share files. I hope Nokia will release this to Windows Phone 8 users.