What is Xbox Smartglass : 
In simple words, you can now ditch your controller for most of the things except playing games with Xbox. This app is a natural extension of Xbox 360 making it possible to control your Xbox from any mobile device. Yes, you got it right, the app is available for Android, iPhone, iPad and Windows Phone along with Windows 8 Touch enabled devices.
So is it only a remote control ? Actually that's where everyone including me went wrong. Like I said its a natural extension which means it not only lets you ditch the controller but also lets you view all your Xbox gamertag details, view information about games, find more detail about the game you are playing right now, and its even extended to Music and Videos.
The App is available in respective marketplace, just make a search for Xbox Smartglass.
How to use Smartglass app with Xbox 360 :
Once connected, you should see Xbox Smartglass Remote on the Home section of the app on your phone. If its not there, it should be asking you to connect. Launch the remote by hitting the Play link.
Basics :
Once you do that, a touchpad like area and  a controller buttons  X,Y and B, shows up. This will be used to move to different sections of Xbox Dashboard, the experience is similar to using Kinect.
There is also a switch option in the menus,  which changes the mode of Smartglass between :
Guide :  This launches the Xbox guide, the same system blade, which appears, when you press the guide button on Xbox
Controller : Like said above, gives you access to buttons on the regular controller
Browser : This gets active when you are using IE on XBOX
Keyboard :  Use this when you need to type in somewhere. However, most of the time it automatically launches as soon as you select somewhere typing is possible.
 How to use Smartglass App to use IE 10 on Xbox :
Launch IE on your Xbox while the Smartglass is connected. This will launch the browser mode automatically within the app where you get these options :
Touchpad like area used for moving the cursor with side scroll.
Back Button
Address Bar with small reload button.
Open Web Hub
Option to open webpage from IE on Xbox to your mobile device.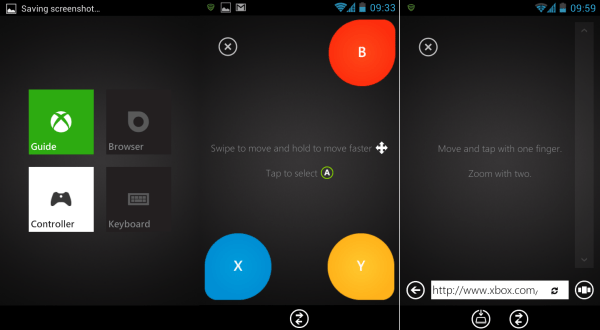 Using it is easy, just type in the address bar and it will open the webpage on your Xbox. Then you can use your mobile device like a mouse and do most of the things you can do with the browser. For mew ore details on this checkout our IE Review for Xbox.
Also in case you want to open the webpage, which is already open on Xbox, to your mobile device, just hit the small button which looks like an Arrow over a rectangle or "Play Here" and it will launch in your mobile device's native browser.
Video Demo :
Exclusive for Windows Phone
Windows Phone 8 shares its browsing history with Xbox using smartglass which virtually means your browser session on the tablet is also shared or anywhere you are using Windows 8 with IE as your main browser.
You can send a webpage from IE on Windows Phone to Browser on Xbox by suing the Share Option and then selecting Xbox.
How to launch games / apps using Xbox Smartglass :
To do this, either search for the game or look at the recent played list on your profile. Once it appears, you will see an option with Green Tile which says, "Play on Xbox". This will landing page of the Game on your Xbox, from where you can start playing it if you have the game.
Now for Music and Videos, You can use Play on Xbox to send a video to Xbox and then use Play here option to get back to your mobile device at the same point where  you left.