There might be many items in your To Do list which you might want to complete when you go to a particular location next time. But unless you have someone to remind you about the location, your To Do list might not work well. This is where Yoo-Doo app comes handy. It is an easy to use proximity based to do list, task scheduler and reminder application. It is simple to use but has powerful features such as a live timeline, user defined GPS locations, calendar view, task history and much more.
Using the app, you can set up GPS coordinates for the places you want the app to remind you. You can add multiple locations for your home, work, shopping, etc. and then add multiple tasks to be performed at these locations.
Now, whenever you pass through these locations where active tasks are defined, the app will fire toast message reminders.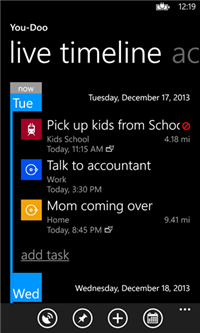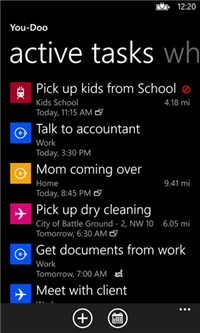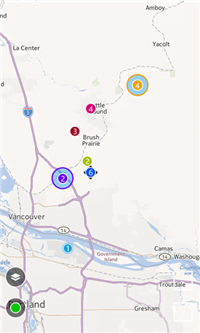 Features of the app:
Proximity triggered alerts for tasks
Live Timeline View
Live tiles for individual tasks and live timeline
Configurable gps location groups for categorizing tasks
Location information with mapping integration to Bing Maps and Foursquare
Reminders and Notifications
Multi Language Options
Calendar view with daily detail
You can also pin your live tiles and add You-Doo to your lock screen and never forget an item or miss an appointment again. The app is a fully featured task manager and calendar for your Windows Phone. The app is free of cost and can be downloaded from the link below.