Changing Desktop Background every day is something we all love to do. Right from wallpaper slideshows to automatic colors for desktops, we work every day.  In this post, I share some impressive apps available in Windows Store which can get you wallpaper every day and keep your desktop fresh as ever. Here are some of the Best Apps to Find Wallpaper for Windows 10 PC & Laptops.
Dynamic Theme
It's the best app in the store for backgrounds. It gets daily Bing, Windows Spotlight pictures, which get automatically applied as background or lock screen wallpaper. The best part is that the settings sync between multiple devices using the same Microsoft Account. So if you have the same app installed on a different PC,  your experience will be the same.
Here is the list of features:
Use the daily Bing or Windows Spotlight picture as background and/or lock screen.
Use a Bing or Windows Spotlight picture as background and/or lock screen.
Use personal pictures as a background and/or lock screen.
Different modes supported: static image or slideshow (one or multiple folders)
View recent daily Bing images
View recent Windows Spotlight images
Use daily Bing and/or Windows Spotlight image as a dynamic tile of the application.
Configurable alert to indicate when a new daily Bing or Windows Spotlight image is published
Automatic or manual saving locally daily Bing and/or Windows Spotlight pictures.
Amazing Lock Screen
This app is based on Bing Images but gets you one of the eight latest images, which can be updated manually or automatically on your lockscreen.  One of the nice things about the app lets you save a copy of your PC's images. You can then later share this image over email, WhatsApp, or whatever way you feel is best to connect with your friends.
Brill Automatic Wallpaper Changer
Same Function and Same Bing Images, but here, you can choose your own region to download the bing images. The next interesting feature is its ability to create your own collection and changes wallpaper at regular intervals ranging from 15 minutes to 1 day. More Here
Create multiple collections, add images to them, and set them as your lock screen, start screen, or desktop wallpaper!
Browse wallpapers through online sources and easily add them to your collections
Set Bing Daily image as your wallpaper & choose your region to download Bing images from!
Dynamically shuffle through your images starting from 15 minutes to 24 hours.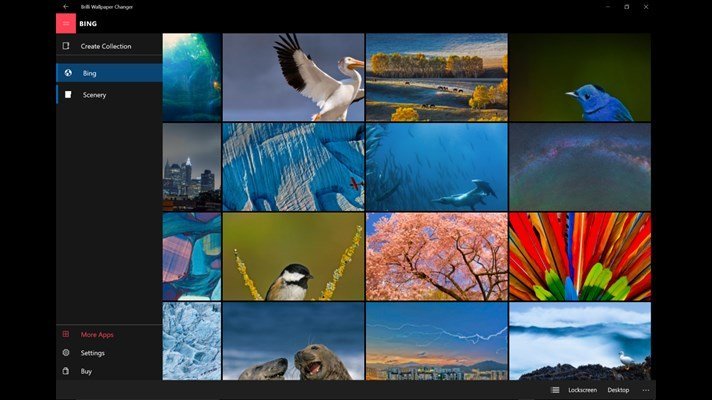 Get Daily Desktop Wallpaper – Microsoft Store
That said, if apps are not your choice, then let's get to some basics. Check out how you can change wallpaper, theme, and colors in Windows 10. Also, check out our personalization tips for Windows 10