Computers and the internet have changed the ways businesses operate for good. Gone are the days when a business had to rely on pen and paper, postal services, and door-to-door campaigns to sell more products and dominate their industry.
Businesses can attract more leads and generate more sales by streamlining their business process with the platform development process. Digital platform development includes practices that enable businesses across industries to use the latest and most significant technological developments.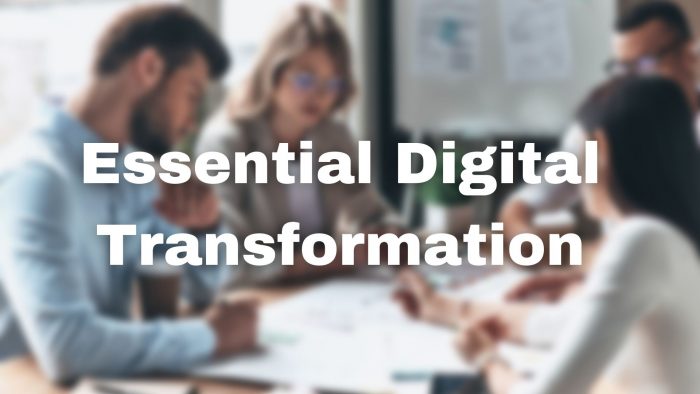 Reasons Why Digital Transformation Is Essential For Businesses
Are you a business owner who is looking to transform your business? Do you want to know more about how digital platform development can benefit your business? Keep reading this article to find out how a digital transformation can help you supercharge your business success in no time.
1] Collect all the essential data
There is no doubt that data has become the new gold in this day and age. Businesses no longer have to rely on guesswork or carry out tedious campaigns for data collection about their target audience. With digital channels, it is almost effortless to collect and process data.
But how can a business ensure that it's not missing out on any essential insights about its industry? Digital infrastructure development, designing, and data engineering enable businesses to find out all the valuable insights that can help them accelerate in no time.
The good thing about digital platform development is that it's not all about gathering data the right way. Cloud computing and cybersecurity practices also ensure that the data stays safe from the prying eyes and can be processed for taking learned decisions.
2] Manage your resources easily
Hiring the best people is the most necessary thing for the growth of businesses. Compared to the past, people are now no longer bound to take up the careers that their parents followed. Liberal education has enabled the masses to decide which career path is the most suitable for them.
The diverse condition of the job market requires the proper attention of the business owners. If you are not active in the adequate hiring process and don't focus your attention on hiring the best resources and managing them, you will lose your place in the industry in no time.
One of the best benefits of digital transformation is that it allows you to hire the right people and manage them accordingly. Superior tracking and communication channels enable you to spot the employees that are doing their best.
3] Learned marketing decisions
Running a business nowadays requires a special focus on marketing. If all a business cares about is developing products and pays no attention to marketing, then such a business will hit rock bottom in no time.
Digital transformation allows business owners to know what their audience wants and how to provide it to their customers. Data enables the marketing teams to ensure that they are making the right guess about their audience.
Advanced data processing allows the marketing teams to find out if their digital marketing campaigns have been successful and if they can continue spending their money on active marketing campaigns.
4] Improve your interaction with customers
Improved customer support can accelerate the growth of a business in no time. Gone are the days when customers didn't care about proper interaction with the brands and only cared about getting the products.
With so many companies in the market, customers don't have to rely on one provider for all their needs. They only value the brand that provides them with superior support and makes them feel special.
Digital transformation can help a business in this regard. Using AI Chatbots and other advanced digital tools, a business can stay connected with its audience and get ahead of its competitors.
5] Superior coordination and collaboration
The essential thing for the growth of a business is a proper collaboration among all departments. You will fail to supercharge your business as a business owner if you fail to keep all your talented employees on the same page.
But how can a business owner succeed in managing complex teams that comprise people from various backgrounds? Digital transformation can help a business in this regard. Advanced communication channels powered by the latest technology make coordination easier than ever before.
Project management and employee evaluation get easier as businesses can rely on paper-free solutions for all their needs.
6] Generate more sales
No business can survive in the market without focusing on sales. Increased sales drive the growth of a business and provide the revenue that contributes to the growth of a business. But the problem is that with so many companies competing in the market, it's getting difficult to produce sales by day.
The only feasible solution to this problem is utilizing the power of digital transformation. Digital channels make it easier to reach out to prospects and convert them into customers. Instead of shooting darts in the dark, marketing experts can now use data to fuel their marketing campaigns for generating sales.
7] Get ahead of your competitors
The business industry also works on the "Survival of the fittest" rule. Businesses that don't try to stay ahead of their competitors fail to accelerate. The problem is, how can a business owner ensure that their infrastructure and products are better than others in the market?
Digital transformation allows businesses to outsmart their competitors and become the leader in the industry. Data allows businesses to evaluate the processes of other businesses and then enables them to come up with better solutions that can ensure their growth in the industry.
8] Productivity at its best
One of the biggest challenges for business owners is ensuring the productivity of their employees. No matter how skilled your employees are, if you fail to provide them with the right working environment, they won't be able to do their best.
Digital transformation is the only way to ensure that your employees work in the right direction, and you get to evaluate their performance. There are a plethora of digital solutions available in the market that enable HR professionals and managers to track the performance of their team to promote the employees that are doing their best.